I'm not a punchbag, says Deputy PM Nick Clegg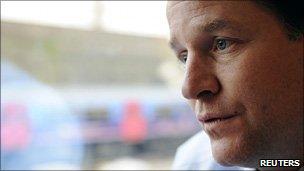 Nick Clegg has said he is "not a punchbag" and that he worries about how attacks on him affect his three sons, in an interview with the New Statesman.
The deputy PM, who has been the focus of anger at tuition fee rises, said his nine-year-old had asked "why are the students angry with you, Papa?"
Mr Clegg said he and PM David Cameron did not see each other as "mates".
The Lib Dem leader also revealed his softer side, admitting he "cries regularly to music".
Mr Clegg, who saw his poll ratings surge in the aftermath of the election TV debates last year, has since been personally targeted by critics of the government's cuts - in particular the decision to nearly triple the cap on tuition fees, something which his party had campaigned against before the general election.
Asked about the attacks on him since entering into a coalition with the Conservatives in an interview for the New Statesman, Mr Clegg said: "I'm a human being, I'm not a punchbag - I've got feelings."
He said media representations of him were outlandish "cardboard cut-outs" and sometimes people would come up to him to express support, in a whisper, "as if it's a guilty secret saying anything nice about Nick Clegg".
The deputy prime minister said he had tried to create "a firewall" between his work and his family but worried that "what I am doing in my work impacts on them emotionally, because my nine-year-old is starting to sense things and I'm having to explain things. Like he asks: 'Why are the students angry with you, Papa?'"
Labour's leader Ed Miliband refused to share a platform with him to campaign for a "yes" vote in the referendum on the Alternative Vote - something they both back. Mr Miliband urged him instead to "lie low for a bit".
Mr Clegg told the magazine he was not bothered by Mr Miliband: "I see it exactly for what it is. [Ed] is a perfectly nice guy but he has a problem, which is that he's not in control of his own party, so he constantly has to keep his troops happy and he thinks that ranting and raving at me is the way to do it."
Recently Mr Clegg was caught on microphone joking with his Conservative coalition partner that they agreed on too many issues.
But in the interview he insisted he and Mr Cameron "don't regard each other as mates" adding: "I don't think a coalition works unless you have a very careful balance between mutual respect and civility and also a certain hardness, as at the end of the day you are representing different views."
Related Internet Links
The BBC is not responsible for the content of external sites.