Social tenants could get paid to carry out own DIY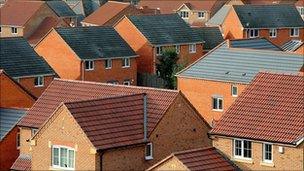 Social housing tenants in England could be given money to maintain their homes.
The government says it wants to reward tenants who take pride in looking after their homes, by giving them control over their repairs budget
It says housing associations and councils spend £1,000 per property a year on repairs - and often tenants could do the work themselves.
The National Housing Federation said the idea was worth testing and welcomed pilot schemes with two landlords.
Housing Minister Grant Shapps said maintenance and repairs cost social landlords £4bn a year, but often work was something tenants could do themselves, which would save councils and housing associations money.
He told the BBC the kind of repairs he was talking about were "routine" maintenance like leaky taps or replacing locks but responsibility for "big items" would remain with the landlord.
The "tenant cashback" scheme would allow people to ask their landlords for the chance to carry out DIY themselves, or pay someone locally to do the work, and keep any savings made.
The government said no tenant would be obliged to take on more responsibility than they wanted to and there would be no new cap on maintenance budgets.
Mr Shapps said tenants would probably do a better job of finding people to do the repairs, or do it themselves, and the scheme would give people an incentive to look after properties even better.
Mr Shapps said: "When residents take pride in their homes it saves their landlords cash, so I think it's right that tenants should benefit too."
The National Housing Federation, which represents housing associations in England, told the BBC: "We think it's an idea which is well worth testing and we welcome the fact that there will be a rigorous pilot before the plan is introduced across the board."
The idea will be tested by two housing associations - Home Group and Hastoe Housing Association which manage properties in various areas - and the government plans to change the regulations to spread the scheme across England later this year.
Landlords will be responsible for administering the scheme, including agreeing with tenants how much cash is to be shared, and ways to ensure it does not lead to fraud.
For Labour, Shadow Housing Minister Alison Seabeck said: "This scheme needs to show that it isn't another poorly thought-through idea to prevent any misuse of public funds and to protect social housing tenants and housing stock from shoddy work."
Related Internet Links
The BBC is not responsible for the content of external sites.