AV vote referendum: Young people aim to get voice heard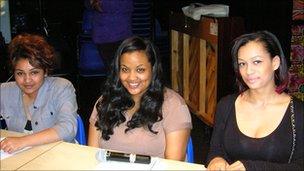 For anyone under the age of 50, taking part in a UK-wide referendum is a real novelty.
But getting people engaged in the issues involved in any political debate can be a challenge.
The merits of different electoral systems was never a subject likely to get pulses racing - and younger voters are not the only ones struggling with the finer details of first-past-the-post versus alternative vote ahead of the 5 May referendum.
But their tolerance for the jargon which clings to the electoral process is understandably limited.
But give young people a forum to discuss the issue, as one new initiative is seeking to do, and it is clear they want to have their voices heard.
Listening to a debate at a sixth-form college in Hackney, east London, you hear many of the arguments being thrashed out by politicians from both sides but refreshingly free of political calculation and concerns about which party stands to benefit most.
"First-past-the-post is used in 50 other countries while AV is used in only three countries," says Kele Olaleye, a student at the University of Greenwich and one of three people putting the case for the existing system.
"If AV works, it would have spread more."
The debate - one of a series taking place in London and across Yorkshire over the coming weeks - is part of the Political Academy, a non-partisan initiative designed to increase political participation among young people.
Backed by the SHM Foundation and the Joseph Rowntree Charitable Trust, it stresses it is not favouring either side in the referendum campaign but seeking to encourage people to express their views and grasp the opportunity to vote on 5 May.
There is a website address, www.whatyousaying.org, for people to learn more about the issues involved and SHM's Rose Dowling says the initiative is designed to "test the power of a new model" for engaging young people politically.
While Mr Olaleye is not set on a career in politics - he wants to become an accountant - he has already experienced the inside of the Commons as a member of the Youth Parliament which held a debate there last year.
His concerns about electoral change revolve around the alleged complexity of the alternative vote - "it is hard enough to get people to vote once", he says - and how much a switch to a different system would cost.
For his colleague Alexandra Winning, a student at the BSix college, the focus of the debate should be on the likely outcome of elections under the two systems.
"Change is not always the best thing," she says. "Sometimes we should stay with the tried and tested. The way it [first-past-the-post] creates strong, stable one-party governments is the way most people in the UK would be happy with."
But those on the other side of the argument reject the idea that people would struggle with a system where they would be able to rank candidates in order of preference rather than vote for a single individual.
"Assuming that people are going to get confused or they won't be bothered or are just too stupid is just wrong," says Jay Begum, a sixth-form student from Camden. "What is so difficult about putting down one, two, three?"
She believes too many MPs have become "familiar" and "warm in their seats" and that the alternative vote will shake things up in Westminster.
"People will not be complacent in their seats and they will reach out to get their votes. They know they will be gone tomorrow if they do not work hard enough."
For Huda Al Bander, a student at Kingston University, the alternative vote would be a catalyst for voters to do more research about different parties and viewpoints - a process she compares to her experience in applying for university.
"You don't necessarily get your first choice," she says. "But you are more likely to get into your second than you are your third."
Hackney councillor Michael Jones, who chaired the debate, says it is important to "spread the word" to people that if they did not register to vote by 14 April they will not be able to take part.
But he bemoans what he says is a general lack of initiative by schools to raise awareness of issues affecting young people.
Although you have to be 18 on 5 May to take part in the referendum, there are almost three million more teenagers with a direct interest in the result.
These are the approximate number of people currently aged between 14 and 17 who will be eligible to vote in the next general election, under whichever system is chosen, should it take place in 2015.
Meg Hillier, the Labour MP for Hackney South and Shoreditch who also took part in the event, points out that one in five of her constituents are under the age of 16 while one in three are under the age of 24.
While young people are not always motivated to vote, she says it is a "big bad generalisation" that they are not interested in local and national issues.
"If you have strong opinions about something, that makes you political," she says.
While suggesting she is personally "ambivalent" about the outcome of the poll, she urges people to show London cares about how MPs are chosen.
"It is completely wrong that MPs should decide this thing for themselves."
Related Internet Links
The BBC is not responsible for the content of external sites.