English local elections: Fewer Lib Dem candidates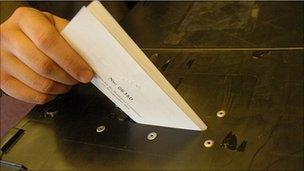 The Liberal Democrats have blamed a drop in the number of their members fighting council seats in English local elections on being a "party of power".
Initial figures suggest 59% of places taking part on 5 May will have a Lib Dem candidate, down from 63% in 2007.
Their Tory coalition partners will contest 93.6% - up from 88.3%.
Labour also claimed an increase in candidates - notably in the south of the country - from around 60% to more than 71%.
The figures have been released following the close of nominations for elections taking place across England - except in London.
They suggest the Lib Dems will be fielding 400 fewer candidates than in 2007, the last time the seats in question were contested.
The party has seen its national opinion poll ratings plummet since entering government at Westminster in coalition with the the Conservatives.
As a result, Lib Dem leaders are braced for a bad night on 5 May - but are hoping activists will fight hard to prevent a total rout.
"We have got some really good, strong, hard-working candidates. There is absolutely no concern," said a Lib Dem spokesman.
He said it was not surprising the quantity of candidates had fallen - and insisted gaps were mostly in unwinnable seats among so-called "paper" candidates with no chance of victory.
Taking "difficult" decisions in government and "moving from a party of protest to a party of power" were bound to affect the ability to recruit people, he added.
Labour still has fewer candidates than at the 1999 local elections - but it has improved on the number it fielded in 2007 when the party was at a low ebb in the dying days of Tony Blair's premiership.
Labour deputy leader Harriet Harman said there was still "a long way to go", particularly in areas where the party has not fielded candidates in recent years.
But she said: "There are more Labour candidates this year and we will be campaigning vigorously in all regions.
"We will make sure there are even more candidates in next year's council elections."
Conservative Party co-chairman Baroness Warsi claimed the Tories were "the only party fighting for every part of England".
"This is in stark contrast to Labour which can't find candidates in three out of 10 seats.
"So much for Ed Miliband's promise of a new generation in politics - he can't even beat New Labour."
She said almost 250 Conservative councillors had already been elected unopposed after no-one stood against them by the time nominations closed - compared with seven Labour and five Lib Dems.
Related Internet Links
The BBC is not responsible for the content of external sites.