Government digital chief 'much more than Twitter tsar'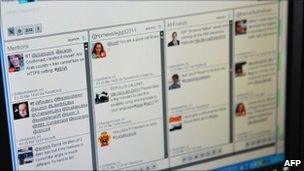 The government is recruiting a new digital chief who will earn almost the same salary as the prime minister.
The new role of digital director in the Cabinet Office, on about £142,000, was recommended by internet entrepreneur Martha Lane Fox in a review last year.
The government said it would replace three existing jobs and would co-ordinate digital strategy and delivery.
Officials rejected headlines labelling the job a 'Twitter tsar', saying there was "so much more to it than that".
However, the post - one of whose tasks is to "make use of best existing technology" - has attracted comment on the micro-blogging site, focused on the salary and the skills expected of the successful candidate.
According to the job advert, posted on the civil service website, the successful candidate will be expected to "champion" the needs of people who use government services through digital channels and ensure efficient spending on online services.
"Sitting at the heart of the government's radical public service reform agenda, this will be a rewarding role with a great deal of public visibility," it states.
In her review, digital inclusion champion Ms Lane Fox argued the government could save billions by making more services available online and said the Directgov information website should become the single place for all government transactions - from claiming benefits to paying road tax.
She criticised the fact that many benefits were not available online and compared the process of applying for a student loan, which ends with people having to print out and sign a 30-page document, with the simplicity of booking a flight.
The new post replaces three existing jobs including the government's director of digital engagement, introduced in 2009, and the director general of Directgov.
The job has been dubbed the 'Twitter tsar' by several newspapers but a Cabinet Office spokesman said it was much more significant than that.
"It makes it sound that they will spend all day tweeting which is ludicrous," he said. "There is so much more to this than that. This is a key role which is potentially going to save a lot of money."
Under government plans to control public sector pay, the Treasury has to give special approval for any public servant to be paid more than David Cameron. The prime minister earns £142,500.
Related Internet Links
The BBC is not responsible for the content of external sites.