Statistics chief warns against axing Citizenship Survey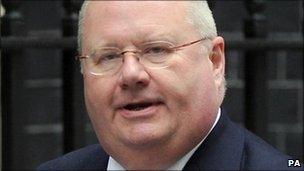 A regular survey of attitudes in England, which is due to be axed, is "too valuable to be lost", the UK's statistics chief has said.
Sir Michael Scholar has urged minister Eric Pickles to consider keeping the Citizenship Survey in some form.
He warned the government needed data to monitor its own policies and the survey had been used to provide information on David Cameron's Big Society initiative.
The government said its £4m cost was "unsustainable" at a time of cuts.
The Citizenship Survey, set up in 2001, asks adults in England questions on subjects including race equality, faith, attitudes towards violent extremism, volunteering and charitable giving and feelings about their community.
Sir Michael, chairman of the UK Statistics Authority, pointed out that it has been used to monitor the impact of policies and events such as the Olympics, the recession and equality impact assessments - as well as by other bodies which cannot afford their own surveys.
In a letter to Communities Secretary Eric Pickles, Sir Michael said the statistics authority believed the Citizenship Survey was too valuable to be lost - and pointed out that government departments were among those to express concerns about it being axed in a consultation exercise.
He said the survey's data was in "widespread" use in government and was particularly relevant to a programme to measure "national well-being" announced last year and Prime Minister David Cameron's Big Society.
"In our view, these requirements need to be addressed afresh, whether by a decision to retain the Citizenship Survey in some form, or by other, cheaper options which may be available."
He suggested National Statistician Jil Matheson should meet Mr Pickles' department's own statisticians "to advise you on the most effective and cost-efficient way of meeting the statistical requirements which your consultation revealed".
The UK Statistics Authority said it intended to publish reports on the effects of cuts in statistical work and draw the government's attention to "any substantial impact" for those who rely on them.
But the Department for Communities and Local Government said the decision to end the survey was taken following an "open and transparent" consultation process.
"Every bit of the public sector needs to do its bit to tackle the last government's budget deficit - including the statistics community," a spokesman said.
"This is not a frontline service. Ministers would rather give money to charities and the voluntary sector than hand out blank cheques to opinion polling companies."
Related Internet Links
The BBC is not responsible for the content of external sites.