Plan for 50% sentence discount 'will offend' victims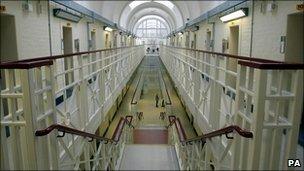 Plans which could see criminals' sentences cut by up to a half if they plead guilty quickly have been attacked as putting "efficiency over justice".
Victims Commissioner Louise Casey said the idea, part of plans to cut prison numbers in England and Wales and reform sentencing, would "alienate" victims.
Community sentences needed to be much tougher so they were no longer regarded as a "slap on the wrist', she added.
The government says prisons are always the right place for the most dangerous.
Justice Secretary Ken Clarke has vowed to end the rise in prisoner numbers and break the cycle of crime by tackling causes of reoffending.
He has set a target of cutting the number of inmates in English and Welsh jails by 3,000 from its current 85,000 level.
Plans unveiled in a Green Paper in December would see greater use of non-custodial sentences, but stiffen the terms of community punishments to make them more demanding.
One controversial idea being examined by officials is halving the sentences given to people who plead guilty at the earliest opportunity - which supporters say could save costs and speed up the criminal justice system.
But Ms Casey, who speaks on behalf of victims and witnesses of crime, said she was worried the plans would not have the desired effect and would antagonise victims of crime.
"Proposals to incentivise guilty pleas by offering a discount of 50%, to save on court time and costs, could be seen to cut across the credibility of a sentence which has been set for the crime that has been committed.
"A discount of 50% offends many victims, underplays the harm that may have been caused to victims and can seem to be placing administrative efficiency over justice."
Since taking up the the role in 2010, Ms Casey - formerly head of the Home Office's anti-social behaviour unit - has expressed concerns victims of crime are too often treated as the "poor relation" in the justice system.
In her response to the Green Paper, Ms Casey said the public broadly supported community sentences, but did not believe they were equivalent to jail sentences.
"They see anything short of custody as not a real punishment, they see what's currently on offer in the community as a 'slap on the wrist'.
"And all too often they are right. Because community sentences are not tough enough, not intensive enough, not appropriately demanding in the work that they require and penalties for offenders flouting the rules are haphazard and often weak."
"It is imperative community sentences are given a radical overhaul."
The Ministry of Justice said its plans were focused on rigorously enforcing community sentences and ensuring more offenders make amends to victims and communities.
"There is no question that we must protect the public from the most dangerous criminals in our society, whilst also ensuring the courts have the power to make the right response to stop people committing crime," a spokesman said.
"Prison will always be the right place for serious and dangerous offenders."