NHS reform: Does Nick Clegg agree with Norman Lamb?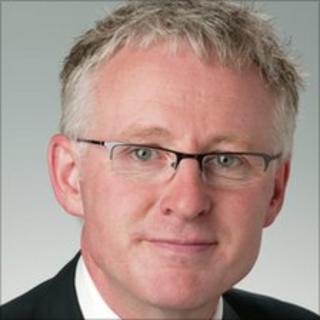 He is neither a minister nor a household name, but Norman Lamb is important, and close, to Nick Clegg.
When the deputy prime minister could not attend a recent meeting of Lib Dem MPs and peers called to consider the health reforms, it was his political and parliamentary adviser - Mr Lamb - who went in his place.
Now the adviser has gone on national television to say that the government's health policy is putting the NHS at financial risk and that there is no evidence about how a central plank of the reforms will work.
He also acknowledged those views could make it impossible for him to stay in his job.
Mr Lamb told Mr Clegg he was planning to do the interview before he went on air.
So the key questions now are: Does Nick agree with Norman, and to what extent was the aide echoing the thoughts and feelings of his boss?
One Lib Dem source said Mr Clegg does rely heavily on the advice of Mr Lamb, who was the Lib Dem health spokesman before the election.
Government sources emphasise the fact the ministers have announced a pause in the legislation, and a commitment to reflect, which Mr Clegg has already said will lead to substantive change.
Petition pressure
Lib Dem MPs are under pressure from their grass roots to alter health policy. Party activists voted for big changes to the health bill at their spring conference in Sheffield in March.
A petition designed to put pressure on Lib Dem MPs to make good on the conference motion has attracted the signatures of 1,200 Lib Dem members.
The former Lib Dem MP helping to collect names for that petition, Dr Evan Harris, suggests the government cannot go further in its reforms than the changes agreed at the Sheffield conference.
He adds: "When an experienced senior government figure like Norman Lamb makes clear that the reforms on their current form are unacceptable and financially risky, then it is clear that the pressure on the prime minister to make major changes is being ratcheted up by the Lib Dems."
Cherry picking
Some on the Conservative side will be furious at Mr Lamb's intervention.
They point out it was the Liberal Democrat general election manifesto that suggested scrapping primary care trusts, clusters of which Mr Lamb has suggested should be retained.
They will also note that not a single Lib Dem MP voted against the Health Bill when it had its second reading in the House of Commons.
Behind the scenes Lib Dem MPs and peers are drawing up a list of changes they want to see made to the NHS reforms, which will be presented to Mr Clegg and the Lib Dem health minister Paul Burstow.
Some amendments to the plans drawn up by the Conservative health secretary, Andrew Lansley, will be easily agreed.
Measures to stop private firms "cherry picking" the most attractive work, for example, are a given.
Finding common ground between the coalition parties on suggestions from Mr Lamb, like keeping some PCTs or slowing the reform process, may prove much more difficult.