Foreign Secretary William Hague Syria free speech plea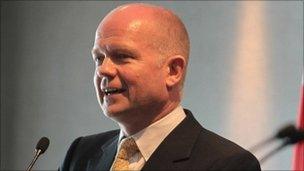 Foreign Secretary William Hague has urged the Syrian government to respect its people's right to free speech and peaceful protest.
Mr Hague also called on Syria to put in place "meaningful reform", which he said was the "only legitimate response to the demands from the Syrian people".
His comments came amid protests in Syria which have challenged President Bashar al-Assad's 11-year rule.
He spoke at a joint press conference with Italy's foreign minister.
Mr Hague and his Italian counterpart, Franco Frattini, who is in the UK to deliver a speech on global security at the International Institute for Strategic Studies, fielded questions on a wide range of subjects.
During the press conference, they discussed the situation in Ivory Coast and the foreign secretary called for former Ivory Coast president Laurent Gbagbo to be treated with "respect" after it emerged that he had been detained after being snatched from his besieged residence in the country's main city, Abidjan.
Mr Hague said that, although Mr Gbagbo had "acted against any democratic principles in the way he has behaved in recent months", he should still be "treated with respect".
"Any judicial process that follows should be a fair and properly organised judicial process," he said.
The foreign secretary went on: "Above all we all hope that this is now an opportunity for the people of that country,who have been through so much in recent months, to find a democratic way forward, a more peaceful way forward, for reconciliation to take place in that country."
Related Internet Links
The BBC is not responsible for the content of external sites.