Vote referendum: AV undemocratic, says Cameron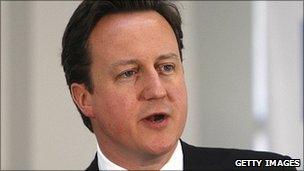 David Cameron has branded the alternative vote system "undemocratic" and "unfair" and urged people to oppose it in next month's referendum.
The prime minister told an audience in Sale, Greater Manchester, that ending first-past-the-post Westminster elections would do "nothing to rebuild trust in politics".
His Liberal Democrat deputy, Nick Clegg, has called arguments against change "nonsensical".
The referendum will be held on 5 May.
Voters will be asked whether to retain first-past-the-post or switch to the alternative vote (AV) - where they can rank candidates in order of preference - in the UK-wide poll.
In a speech, Mr Cameron said it was "hugely important" to take part in the referendum in order to defeat AV, adding that even some of its supporters had admitted in the past that "it would do nothing to rebuild trust in politics" and had called it a "miserable little compromise".
He said: "It's a system - AV - so undemocratic that you can vote for a mainstream party just once, whereas someone can vote for a fringe party like the BNP and it's counted three times...
"It's so unfair that the candidates who come second or third can end up winning."
Mr Cameron likened an election to the Grand National horse race, saying that changing the voting system would not guarantee a clear winner.
He said AV was "not good enough for Aintree and it's not good enough for politics".
AV was only used in Australia, Fiji and Papua New Guinea, the prime minister said, whereas "our system is used by half the world".
Mr Cameron closed his speech by quoting former Prime Minister Sir Winston, calling AV "the system where the most worthless votes go to the most worthless candidates".
But on Sunday Mr Clegg, who backs AV along with most of his fellow Lib Dems, said it would be a "very British reform" and represented an "evolution" of the current system.
He added: "Time and time again, the conservative doomsayers were proved wrong [about constitutional change]. The same will be true of AV. The world will not stop turning on its axis when voters write 1, 2, 3 rather than an X on their ballot papers."
Meanwhile, a cross-party group of six MPs has written to the Committee on Standards in Public Life, urging it to investigate a "scandalous conflict of interest at the heart of the referendum".
The MPs say the Electoral Reform Society pressure group, which backs AV, is "making large amounts of money from the AV referendum by printing ballot papers and postal ballot packs" via its commercial subsidiary, Electoral Reform Services Ltd (ERSL).
It was also "involved in the verification of returned postal ballots for more than 100 local councils".
The letter adds: "Because ERSL both prints the postal ballot packs and checks that only valid postal ballots are cast by voters, the secrecy of the ballot in the referendum is being compromised."
The No to AV campaign argues that a switch to AV will make the introduction of electronic voting machines more likely and that, as the UK's market leader in election management software, ERSL would be ideally placed to benefit.
But Katie Ghose, chief executive of the Electoral Reform Society and head of the Yes to AV campaign, has insisted the society takes no day-to-day role in the activities of its subsidiary.
She told the BBC: "They don't make decisions for us, and we don't for them.
"The No campaign have invented a price tag in place of any arguments about the AV. The only equipment the AV would require is a pencil, so Electoral Reform Services does not stand to gain a penny."
Conservatives Andrew Bridgen, George Eustice and Eleanor Laing and Labour's Tom Harris, Toby Perkins and David Watts have signed the letter.
Related Internet Links
The BBC is not responsible for the content of external sites.