Nick Clegg rejects Lib Dem coalition fears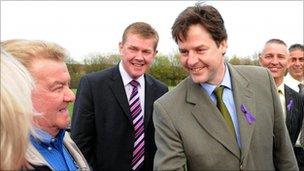 Nick Clegg has rejected a call from a senior Lib Dem councillor to end the coalition in order to save his party.
The Lib Dem leader and deputy PM told the BBC that Warren Bradley had "said these things before" and was "wrong".
Mr Bradley said many Lib Dem councillors would lose their seats on 5 May due to coalition policies.
But his criticisms were rejected by six Lib Dem council leaders contacted by the BBC, who said the party should fight on local issues.
Mr Bradley led Liverpool Council until last May when Labour took control for the first time since 1998, and went on to fight off a leadership challenge.
In a letter to Mr Clegg, leaked to the BBC, Mr Bradley warned that local election defeats could set the party back 40 years in Liverpool and said local councillors were "tired of defending the indefensible".
"The boil is about to come to a head and burst (probably on election night) when we lose some very well respected and experienced colleagues from Liverpool City Council."
Mr Bradley claimed many long-serving Lib Dem councillors could be defeated "not because of their record, but because of your record and the perception of what we as Liberal Democrats now are".
"As a party we have to reconsider what and who we are before we disappear into the annals of history as a political party who promised so much hope, yet failed because they wanted control and power."
He urged Mr Clegg to "sever ties from the coalition".
After the Lib Dems lost control of Liverpool City Council last year, Mr Bradley narrowly fought off a challenge as Lib Dem group leader. In July he warned, in a leaked e-mail, that a "weak coalition" could see the party "wiped out".
Mr Clegg has found himself a target for anger over tuition fees and spending cuts since entering coalition with the Conservatives following last May's general election and the party's poll ratings have fallen from an average of 21% to 13%, according to BBC research.
The Lib Dems, who control 22 councils in England - 19 of which will be contested on 5 May. About half of all Lib Dem held council seats will not see elections in May.
Asked about his latest criticism, Mr Clegg told the BBC: "Warren's said these kind of things before. He is wrong. We are in the middle of a very difficult repair job because of the total mess that Labour left behind."
He said he had not replied to Mr Bradley, nor spoken to him, but advised him to "highlight the benefits" the government's decisions were bringing to Liverpool - such as the raising of the income tax threshold and the restoration of the earnings link to the state pension.
"Those are the things I think we should concentrate on."
He said it was "not right" to abandon plans to "fix the economy" when it was in its most difficult phase.
"I don't think it is right in politics when you are trying to do a difficult job... to start arguing amongst yourselves."
He added: "I think sometimes people like Warren Bradley and others forget what we are dealing with. As a country we are borrowing £400m every single day... that is enough money which is being borrowed every day that could build a primary school every 20 minutes."
Lib Dem Business Secretary Vince Cable also told the BBC the Lib Dems had gone into the coalition to "provide stable government and in order to help dig the country out of its enormous economic hole".
"That's a long-term project, it's going to take the five years of this Parliament, we've got to show stamina, this is a marathon not a sprint."
He suggested the "admirable" Mr Bradley concentrate on the Lib Dems' record in "restoring Liverpool" and concentrate on mistakes made by a previous Labour council.
Other Lib Dem council leaders contacted by the BBC did not back the view that Mr Clegg should split from the coalition - and stressed they were campaigning on their local record.
Brendan Jameson, Lib Dem leader of South Lakeland District Council, said it was a "very difficult time for Lib Dem councillors" but it was also difficult for "die-hard Conservative councillors" who were not happy about the coalition.
He said blaming central government three weeks before the local elections was "buck passing".
"It's as if every fault that occurs locally is the fault of central government - well that's not the case. If the roads aren't being repaired, or the lampposts are not being repaired, it's not central government's fault. It's that you haven't got your own house in order."
Ray Russell, leader of Chesterfield Borough Council, said he had not read the comments but was not in favour of splitting up the coalition.
He said: "I think the economy's tough at the moment. The very last thing it would be sensible to do would be to break up something which has come together to try and resolve many of the problems.
"We have a good record in Chesterfield and we are trying to put that before the electorate. It will be tough as it will in other parts of the country. But we shall certainly be out there putting our case."
On Monday, in a separate development, Tavish Scott, the Lib Dem leader in Scotland, joked about Mr Clegg's admission in a magazine interview last week that he "cries regularly to music". He told Clyde 2 radio: "Nick Clegg doesn't make me cry, grimace occasionally, but not cry."
Related Internet Links
The BBC is not responsible for the content of external sites.