Cabinet Office FOI responses 'too slow'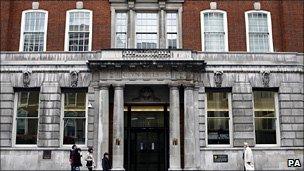 The Cabinet Office, which oversees the government's transparency drive, has been criticised over its handling of Freedom of Information requests.
The Ministry of Defence and Birmingham City Council were also singled out for not answering requests quickly enough.
The Information Commissioner said FOI was part of the democratic process and urged authorities to "get on with it".
The Cabinet Office and MoD said they were addressing delays. Birmingham said 83% of responses were on time.
Information Commissioner Christopher Graham said he was considering what regulatory action to take against the bodies to get them to speed up their responses.
His department has been monitoring 33 public authorities suspected of being too slow in their responses.
Of those, 26 had speeded up their response times sufficiently.
Four of them - Hammersmith and Fulham, Islington, Wolverhampton and Westminster councils have been asked to sign "undertakings to improve their performance in this area".
And the Cabinet Office, Ministry of Defence and Birmingham City Council have been warned that they "have not done enough to convince us that they have a clear and credible plan for getting back on track".
Mr Graham said discussions about "appropriate regulatory action" were taking place - he can issue enforcement notices, which would legally require specified measures to improve performance.
He told the BBC: "People want to know, people want to have access to public information - their information if you like - and we hear a lot from government about transparency and accountability.
"Well, here's the nitty gritty: You have to turn around Freedom of Information requests within 20 working days, or longer if there is a public interest balance to be taken into account and we have identified seven authorities who have not been able to do the business in the time.
"Ultimately the law is the law. And I think actually, public authorities make rather heavy weather of things.
"A lot of information could be out there pro-actively, it doesn't have to involve endless appeals and discussions with the information commissioner, appeals to the information tribunal.
"You can be pro-active and that's more cost-effective to get information out there... where the money goes is in resisting things that sometimes aren't worth resisting."
He said requests from journalists and lobbying organisations were part of the democratic process: "That's part of accountability and public authorities have to understand that and just get on with it."
A Cabinet Office spokesman acknowledged it was a "long-standing issue for the department" but said the number of FOI requests it was getting had increased by over a third in just over 12 months.
"We take the Information Commissioner's comments seriously and we have already taken steps to improve our performance."
The Ministry of Defence recognised its performance had "not been good enough" but said the number of requests being handled on time had risen from 49% in mid-2009 to 72% this year.
A spokesman said the department's work was "very sensitive, wide-ranging and complex" covering national security issues but said it was "working hard to improve performance to bring it more closely in line with the information commissioner's 85% target".
A spokesman for Birmingham City Council said: "We do recognise that where requests are overdue they need to be dealt with and the council has a clear commitment to ensuring compliance. But a review of the last five months shows that an average of 83% of requests for information was responded to within the statutory period."
He added that FOI requests cost time and money and estimated the authority had spent nearly £800,000 responding to requests in 2009 - pointing out that the council now had to save £212m while providing council services.
Related Internet Links
The BBC is not responsible for the content of external sites.