NHS shake-up 'should be junked', says Ed Miliband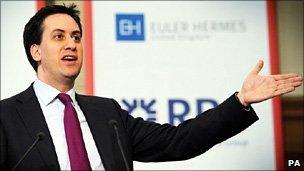 Ed Miliband has urged Health Secretary Andrew Lansley to scrap an NHS shake-up - as a nurses' union delivers a no confidence vote on his handling of it.
"The answer to a bad bill is not to slow it down, but to junk it," he said.
But Mr Lansley accused the Labour leader of "scaremongering" and "deliberately misleading the public".
Ministers say they are listening to concerns about plans to give control of much of the NHS budget to GPs and encourage private sector competition.
They say they are taking advantage in a natural "pause" in the progress of the Health and Social Care Bill through Parliament to hold a listening exercise with healthcare groups to improve the plans and build more support behind them.
But Labour leader Mr Miliband said it was "not a problem of public relations, it's a problem of principle".
He described the bill as a "Pandora's Box" adding: "The more people understand and hear about these proposals, the less they like them."
Mr Miliband said, under the plans, hospital could face huge fines for breaching competition law, could "go bust" as they would be subject to insolvency laws, health service decisions could end up being "made in the courts" and hospitals could convert whole wards to become private wards only.
He denied he was jumping on the bandwagon - as the RCN congress backed a motion that it "has no confidence in Andrew Lansley's management of the coalition government's NHS reforms".
"I think we helped set the bandwagon rolling, we were the people who, for months, have been saying there was a problem with this bill."
On Wednesday the prime minister, Mr Lansley and Deputy PM Nick Clegg met voluntary groups such as Asthma UK, Mind, Mencap and Marie Curie in Downing Street on Wednesday to talk through the plans.
Mr Lansley accused Ed Miliband of "scaremongering" and said the previous Labour government had introduced powers to establish insolvency regimes in the NHS and the bill "does not extend the application of EU competition law at all, nor... domestic competition law".
And he said NHS Foundation Trusts' primary legal purpose would stay the same - to serve NHS patients in England, rather than prioritising private patients.
He said: "Ed Miliband is deliberately misleading the public. It is wholly inappropriate for him to use the NHS as a political football like this.
"Labour have admitted there is widespread support for the principles of our plans. They recently said the plans were 'consistent, coherent and comprehensive'.
"Now they are attempting to rewrite history for cheap political ends. Labour have no vision for our NHS except to cut the budget."
But at the Royal College of Nursing congress, 98% of members voting backed a no confidence motion.
Mr Lansley said the BBC that the RCN supported the principle of reform and accepted there were "serious financial challenges" for the NHS.
But he said: "I did read what was said this morning and the result.
"I'm sorry if what I'm setting out to do hasn't communicated itself."
He said he had always wanted to hear more from nurses about their views on the reforms: "Listening to the vote this morning, if I've not got that message across then I apologise."
The Health and Social Care Bill, currently going through Parliament, is the largest piece of health legislation since the NHS was created.
It would allow groups of GPs' consortia to decide what health care to buy - something currently done by primary care trusts, which are being axed - putting £60bn of the health budget into their control by 2013.
The plans would also allow doctors to buy care from "any willing provider", including private companies and voluntary groups. Currently private firms do very little NHS work - the plans actively promote greater competition and many predict it will increase.
The RCN is among critics who say the changes could undermine the NHS in England. Some nurses are angry that Mr Lansley is not addressing the congress himself - instead he will meet a group of 50 nurses separately. The government says the health secretary is there to listen, not to lecture. Public health minister Anne Milton addressed the conference on Tuesday.
Related Internet Links
The BBC is not responsible for the content of external sites.