AV vote referendum: Celebrity fight gathers pace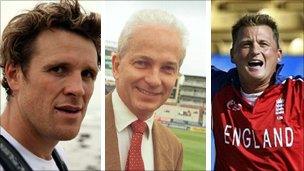 The fight for celebrity support in the alternative vote referendum has intensified after a group of sporting stars endorsed the No campaign.
Cricketers David Gower and Darren Gough, Olympic rower James Cracknell and F1 boss Sir Frank Williams want first-past-the-post to be retained.
Public figures rooting for change include actors Colin Firth and Joanna Lumley and athlete Kriss Akabusi.
Both sides are seeking to engage public interest before the 5 May vote.
Voters will be asked whether they want to keep the current first-past-the-post system for electing MPs or to switch to the alternative vote for Westminster elections in the first UK-wide referendum for 35 years.
Both the No to AV and Yes to Fairer Votes official campaigns are making use of celebrity endorsements as the battle for public opinion continues.
Among those unveiled as supporters of first-past-the-post include former England captain and broadcaster David Gower and Darren Gough, the winner of Strictly Come Dancing who turned down the chance to represent the Conservatives at a by-election in Barnsley earlier this year.
Other figures from the worlds of Formula One, horseracing, rowing and boxing have also thrown their weight behind the No campaign, arguing that first-past-the-post is a more straightforward system in which the person getting the most votes wins.
"If you've got more runs, you win the game," Mr Gower said. "I can't see why politics should be any different."
The campaign has previously received the support of a number of prominent historians - including Andrew Roberts and Antony Beevor - who signed a letter to the Times calling for the current system to be kept in place.
Stars backing a change to the electoral system, arguing that it is extends choice and will make MPs work harder, include Oscar winning actor Colin Firth, Stephen Fry, John Cleese, Helena Bonham-Carter, Olympic track and field champion Kriss Akabussi and Joanna Lumley - who led a successful battle to extend residency rights to the Gurkhas in 2009.
One of the Yes campaign's most high-profile supporters, musician and activist Billy Bragg, helped launched an advertising push on Wednesday arguing that AV disadvantages extreme parties more effectively than first-past-the-post.
He said the campaign was aimed at "setting the record straight" amid suggestions the BNP was more likely to get MPs elected through AV than the current system.
"AV would hurt the BNP, and that's why they're fighting for a No vote," he said.
Related Internet Links
The BBC is not responsible for the content of external sites.