Barack Obama to visit both Houses of Parliament in May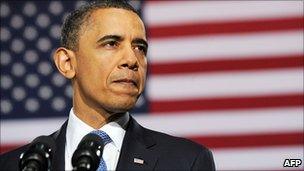 US President Barack Obama will address both Houses of Parliament during his state visit to Britain in May.
He will speak to MPs and peers in Westminster Hall on 25 May, a spokesman for Commons Speaker John Bercow said.
Mr Obama and his wife, Michelle, are to visit London from 24 to 26 May. A state banquet will be held in their honour at Buckingham Palace during their stay.
It will be the first state visit by a US president since that of George W Bush in 2003.
It is rare for a foreign head of state to address both Houses of Parliament in Westminster Hall.
This is usually reserved for British monarchs.
The Queen's Robing Room or the Royal Gallery are usually used to receive heads of state.
Last September Pope Benedict became the third visiting dignitary to address both Houses in Westminster Hall since World War II.
He followed Nelson Mandela in 1996, when he was South African president, and French president Charles de Gaulle in 1960.
In contrast to Mr Obama, former US presidents Bill Clinton and Ronald Reagan delivered speeches in the Royal Gallery in 1995 and 1982 respectively.
President Bush had planned to address both Houses during his 2003 state visit.
However, his speech was cancelled due to anti-war protests.