AV vote referendum: Osborne and Alexander in clash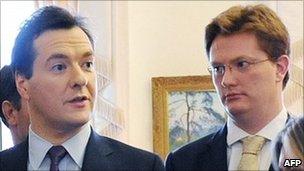 Conservative Chancellor George Osborne has clashed with his Liberal Democrat deputy at the Treasury in a row over the alternative vote referendum.
In a newspaper interview Mr Osborne said the Electoral Reform Society (ERS) was receiving taxpayers' money to run some of the referendum ballots but stood to benefit if AV was introduced, and was funding the Yes campaign.
He told the Daily Mail: "That stinks frankly and is exactly the sort of dodgy, behind-the-scenes shenanigans that people don't like about politics."
Asked about his comments, Danny Alexander, the Lib Dem Chief Secretary to the Treasury, said: "I think it is a real shame that this sort of pretty desperate scaremongering is going on. The No campaign clearly are getting very worried about the referendum."
The No campaign has written to the Electoral Commission, and says six Labour and Conservative MPs have written to the Committee on Standards in Public Life, complaining about ERS support for the Yes campaign.
'Comprehensive arrangements'
Those on the No side say the "secrecy and integrity" of the referendum is at threat because the Yes campaign has received £1.1m of funding from the ERS, and the society's commercial offshoot - Electoral Reform Services Ltd (ERSL) - is involved in the verification of returned postal ballots for more than 100 councils.
They say secrecy is at risk because the ERSL will check that only valid ballots have been cast, so information about votes could be passed back to the Yes campaign.
They also claim the ERS and its subsidiaries have made £15m in public sector contracts in the past three years.
Lawyers acting for ERSL have written a letter rejecting those claims and saying they may take legal action against the No campaign if necessary.
They say it is "completely misleading" to suggest the firm has made £15m from taxpayers and states changing the voting system to AV would have "absolutely no impact" on its revenues.
ERSL's lawyers say it is "wholly untrue" to suggest it verifies postal ballots, because the votes are returned directly to local authorities and no member of ERSL staff comes into contact with them once they have been sent to voters.
A spokeswoman for the Committee on Standards in Public Life said it had yet to receive any letter, but did not investigate individual cases.
The chief counting officer at the referendum, Jenny Watson, who is also the chairman of the independent elections watchdog the Electoral Commission, said: "We have put in place detailed and comprehensive arrangements for monitoring the performance of counting officers and their suppliers, and I have no reason to believe that there is any risk to the integrity of the administration of the postal voting process."
Related Internet Links
The BBC is not responsible for the content of external sites.