NI elections: Devolution Rathlin Island style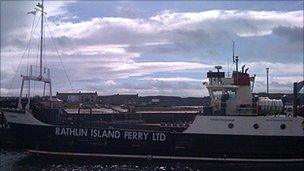 Rathlin Island looks pretty close when you are waiting for the ferry at Ballycastle Harbour.
But, if you don't have sea legs, it doesn't feel that close ten minutes into the crossing.
Rathlin is the only inhabited island off Northern Ireland. It is just over six miles north of Ballycastle in County Antrim, and fourteen miles from the Mull of Kintyre in Scotland.
You get a sense of the scale of the island as soon as you get off the ferry.
There is a road sign close by where the distances to the destinations are in yards, not miles.
There are just five pupils at the island's primary school, and around 100 residents in total.
Rathlin is four miles long, and no more than two miles wide.
Whoever you speak to here, whether recent newcomers or life long islanders, the pride in their home is unmistakable.
"Rathlin has its own spirit. I love Rathlin. It's about community spirit.
"If one thing has impressed me about Rathlin since I arrived, it would be the funerals. One of the ferrymen died. And the ferry brought his body back to Rathlin, and the whole island turned out," Hugh Hainey, 73, tells me, his voice cracking.
"And they carried that coffin all the way up to the church, and all the way back again. It's the one thing that sticks in my mind. If you go to a funeral in a city they can't get you in the ground quick enough because there is a line of people waiting to do the same," Mr Hainey adds.
But pride and roots don't necessarily get things done.
In recent years, islanders tell me they became frustrated at politicians on the mainland in Northern Ireland.
Few seemed to recognise, I'm told, that being on an island meant people here had very specific problems they needed their elected representatives to address.
So a group of islanders set about establishing a formal, direct political relationship with the Northern Ireland Assembly at Stormont. Or to put it another way: devolution within devolution.
"For a long time we were dealing with councillors, and we were dealing with forms and bureaucracy that assumed we were living in Belfast or somewhere on the mainland," says Richard Green, who is originally from Tazmania but has lived on Rathlin Island for 37 years.
"We now have a policy that has been accepted by the Northern Ireland Executive. It was my idea and it was a lot of work," Mr Green, 60, tells me.
"It took about two years to discuss our priorities here and then take them to Belfast. I wanted to get a bigger picture for the island. So we got talking to government and ended up with a designated minister and a designated department that we can deal with. And they come here to discuss what we need."
He is well aware the elections to the Northern Ireland Assembly on 5 May will probably mean a new minister for islanders to work with.
"There is a change coming in the government, with the election. We would like someone who really likes island life, it is a special thing. It's a lovely feeling to be on an island. If someone has a feeling for an island, you are 99% of the way there," he adds.
In Rathlin's general store, Dawn Currie is dealing with a flurry of lunchtime customers. The range of what is available on the shelves is a reminder there is no supermarket to nip to down the road.
Oranges and batteries. Tinned peaches and newspapers.
"It is hard. If the boat doesn't go, it's difficult. You are very dependent on the ferry going. But work is the big thing. Over here, unless you are in farming, fishing or the hospitality industry, there isn't anything else for you," Miss Currie, 22, tells me.
"We need more opportunities here, but without ruining the place. There is a baby boom though which is good. Three ladies on the island are expecting! That counts as a baby boom when the population is about one hundred. That makes you feel positive for the future."
"With the internet you can work from home. I might go away for a wee while, but I'll come back. This place has a hold on you, it's very hard to describe," she adds.
With better boats, mobile phones and broadband, isolation isn't what it used to be on Rathlin Island.
But for people here, it is as appealing as it's ever been.