Minister 'trying to silence police concerns about cuts'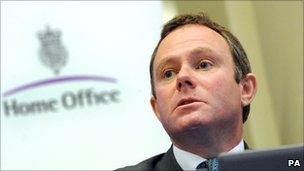 A Home Office minister has been accused of trying to silence the police after he criticised chief constables who have voiced concerns about government cuts.
Police minister Nick Herbert said it was the "quieter" force chiefs who were doing the best job of making savings
Mark Sweet, general secretary of Lancashire Police Federation, said the comments were "appalling".
The head of the the Association of Chief Police Officers said members were "free to say what they think is right".
Several police chiefs have warned that cuts will lead to a rise in crime.
Most recently, Meredydd Hughes, chief constable of South Yorkshire, told his local police authority that a shrinking force, combined with cuts in council services, would mean more offences.
He also said there would be fewer police units available to tackle serious and organised crime, and support staff cuts would lead to officers being overburdened.
Mr Herbert told a conference in London that while the reductions in funding for police forces were "challenging", they were also "manageable".
"The thing that I am increasingly doing is noting the chief constables from forces who are delivering these savings, all requiring difficult decisions I accept, but delivering decisions in a way which actually is protecting the frontline service," the policing minister said.
"These are often the quieter chief constables, those who are not bursting out into the national media to give us the benefit of their latest opinion, but actually are getting on with the job along with their workers.
"They show that it can be done."
Responding to those remarks, Mr Sweet said: "Nick seems to want to silence the more vocal chief constables from raising their genuine feedback to him of the impact of the cuts.
"I think that was an appalling statement and he'll be getting a letter from myself to say so."
Sir Hugh Orde, president of Acpo, said: "Chief constables can speak out because they are responsible, accountable, independent and free to say what they think is right.
"Chiefs face stark choices. That situation is not the fault of chief constables, the police service or the public sector. In fact it started with the private sector that we are often told to look towards.
"The police service understands it needs to take part of the hit - our benchmark in how we manage it has to be fairness."
Shadow police minister Vernon Coaker said Mr Herbert should withdraw the remarks and apologise.
"This is a disgraceful attack on chief constables who are understandably concerned about having to lose over 12,500 police officers because of the Tory-led government's 20% cuts to policing," he said.
"The government should not attempt to bully police officers into silence in an attempt to cover-up the loss of frontline officers and the threat to neighbourhood policing."
Sir Hugh also addressed the conference on Thursday and was asked to take the message back to government "that there is a tipping point passed when the goodwill of police officers is lost".
"I don't disagree," he said in reply. "And we recognise that there has been a campaign in some parts of the media to highlight some of the most ridiculous elements.
"The notion that any cop would dream of claiming four hours' overtime for taking a phone call is nonsensical. We will continue to do our best to dispel these notions.
"In terms of police morale - it was said to be at 'an all-time low' when I joined the service and has been ever since. Cops continue to get on with the job because we have a 'can do' attitude and that is what we do, but we will take the message back."
Related Internet Links
The BBC is not responsible for the content of external sites.