Cable considered quitting amid row over Murdoch remarks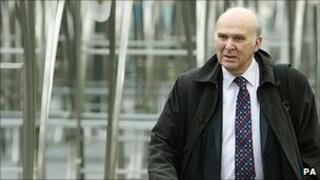 Vince Cable has said he considered resigning from the government after being secretly recorded saying he had "declared war" on Rupert Murdoch.
The business secretary's comments, made to undercover reporters posing as constituents, triggered a row and Mr Cable was stripped of the power to rule on Mr Murdoch's bid for BSkyB.
Mr Cable told the BBC he had considered his position during December's row.
But family and friends urged him it was not the "right thing to do", he added.
Mr Cable, one of the most senior Lib Dems in the coalition government, came under fire after he spoke out against Mr Murdoch - at a time when had ultimate responsibility for the tycoon's bid to take full control of broadcaster BSkyB.
He told journalists from the Daily Telegraph - who were attending a constituency surgery in his Twickenham constituency and whom he believed were local residents - that Mr Murdoch's "whole empire was under attack".
Referring to the BSkyB bid, Mr Cable told them he had "declared war" on Mr Murdoch, adding "I think we are going to win".
'Political pressure'
Despite speculation that he might be sacked for the remarks, Mr Cable retained his position in the Cabinet although he was stripped of powers to oversee the BSkyB bid and other media takeovers - which were handed to Culture Secretary Jeremy Hunt.
Asked whether he considered quitting over the row, the business secretary told Radio Four's World At One: "I certainly thought about it."
But he added: "The people I am closest to and have the most respect for, including my own family of course, thought that was not the right thing to do."
Mr Cable said Prime Minister David Cameron and his deputy, Lib Dem leader Nick Clegg, were "not happy" with what had happened.
"I had a brief discussion with them on the day but the rest of it was up to me to resolve," adding he believed both men wanted him to remain in the Cabinet.
The experience had been "quite dreadful", he added.
"You are under a lot of pressure, political and emotional. That is where you discover your friends."
Mr Cable also defended his criticism of a speech given by the prime minister on immigration - the tone of which he said was "very unwise" - and indicated he would be prepared to speak out on other issues where the Conservatives and Lib Dems differed.
"Obviously we are operating in a government and there are constraints but I felt it was necessary to say something about the way it was expressed," he said.
Immigration row
In the speech, Mr Cameron argued government immigration curbs were working and it was right to substantially reduce net migration. In response, Mr Cable the language used could "inflame extremism" although he said he agreed with the government's policy goals.
The speech sparked anger from some backbench Conservative MPs, who claimed that Mr Cable should have been sacked from the cabinet.
But Mr Cable told the BBC he had to "strike a balance" between upholding collective responsibility for government decisions expected of all Cabinet ministers and "maintaining the identity" of the Lib Dems.
"We joined the coalition because there effectively was a national emergency, certainly in economic terms. I signed up for that reason. And that is why we have a common approach to policy.
"But there are other areas, like the immigration issue, that don't fit within that, where the different parties have a different approach, where I think it is important to maintain some independence of thinking."