AV voting referendum: A question of turnout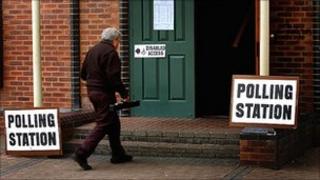 It will not only be the result of the alternative vote (AV) referendum that campaigners will be eagerly awaiting on 6 May.
They will also be poring over the details of the number of people who take part in the poll on whether to change the Westminster voting system.
Turnout - as it is known - has become a political issue in its own right.
Not only would a low participation rate dismay those who hoped to engage the public with the issue of how they choose their MPs but it could also raise more serious questions about the outcome and the degree of public support for it.
Guesstimates of how many people will bother to vote on 5 May, when the poll is being held, are just that.
Recent research by polling firm ICM suggested 50% of people were "certain to vote" but much will hinge on what happens over the remainder of the campaign, the weather on the day and what else is going on.
Turnout is expected to have a decisive impact on the result - some experts believe the Yes campaign would benefit from a low poll.
Close result
It is, as No campaigners concede, easier to motivate people to vote for a change to something than to keep it the same.
And there has long been a small but highly-motivated band of campaigners for electoral change in the UK who are certain to turn out no matter what the weather.
The No campaign has had to start from scratch in building support for its cause and must rely, to some extent, on people who have made the trip to the polling station for other reasons - to vote Labour or Conservative, for example.
The problems could really start if there is a close result on a low turnout, with the losing side challenging the legitimacy of the result.
Threats of legal challenges - and whispers about the coalition cracking apart triggering a general election - could follow.
So what can we glean from previous referendums about how many people will bother to take part?
The last, and only time, there was a UK-wide referendum - 1975's vote on whether the UK should remain in the European Economic Community - 64% of registered voters took part.
Symbolic yardstick
While on the surface this was a healthy figure, it compared unfavourably to the 73% and 79% of people who took part in the two general elections the previous year.
Referendum turnouts have steadily declined since then, hitting a low of 34% in the 1998 poll on establishing the Greater London Authority and creating the role of London Mayor. The only one to buck this trend was the 1998 Good Friday Agreement poll - in which a remarkable 81% of people in Northern Ireland took part.
Few would argue the 5 May poll is of a directly equivalent significance to that in 1975 or that it has captured the interest of the public in anything like the same way.
But, like the European referendum, the outcome could shape politics in Britain for years to come.
It is not only the question of whether turnout will top 50% - a particularly symbolic yardstick given the arguments over which electoral system has a better chance of affording MPs a majority of the vote - which will concern politicians and voting experts.
It is the difference in turnout in various parts of the UK.
The government's decision to hold the poll on 5 May, the same day as devolved elections in Scotland, Wales and Northern Ireland and local elections in some parts of England, has been the cause of much debate.
Regional disparities
One voting expert said overall turnout was likely to be dictated by the number of people voting in the other elections scheduled for the same day.
"It does mean, given the past record, that turnout could be highest in Northern Ireland where devolved elections tend to attract a lot of interest among voters," said Professor John Curtice, from Strathclyde University.
"And the turnout could well be lowest in London where there are no local elections at all and the only reason people have to come out and vote is for the AV referendum. So we could get some pretty big disparities in turnout from one part of the UK to another."
More than 40 Conservative MPs objected to the polling date, arguing that it could lead to a distorted result by maximising turnout in Scotland, Wales and Northern Ireland - where voters are already used to using systems other than first-past-the-post for devolved elections - and depressing turnout in London and elsewhere in England.
One Conservative - Epping Forest MP Eleanor Laing - has gone as far to suggest that the combination of a low turnout and big regional disparities in participation could call "into question the legitimacy" of the referendum.
"That would not be fair and it would be bad for democracy," she said. "If hardly anybody votes in London and a very large number vote in Scotland and Wales, yes, there will be a result but it will be called into question."
Getting out the vote
But this view is not shared by - among others - former Labour home secretary Alan Johnson, who says it "makes sense" to combine the referendum with the other polls and it is behoven on politicians to try and encourage people to take part.
"Our job is to say there is a democratic decision, to get as many people as possible to get out and vote and not to complain before the event that there is a low turnout that we do not know is going to occur anyway," he said.
"It is a referendum that everyone is entitled to vote on. The government has decided on the date...and it is very healthy we get that chance."
Politicians from all sides of the debate - including David Cameron and Nick Clegg - have taken to the hustings in recent days to encourage people to get out and vote amid suggestions turnout in London could be as low as 20%.
Polling research suggests turnout could vary considerably across the UK.
An ICM poll of 1,000 adults earlier this month found that 50% were certain to vote. Breaking that down regionally, it found the figure was higher in Scotland - where 63% said they would definitely vote - than elsewhere.
In parts of England where council elections are happening simultaneously, the figure was 50%. Where there are no other elections, the figure fell to 44%.
In Wales and Northern Ireland, the figure was 52% and 40% respectively.
40% question
The question of turnout was not lost on Parliament when it was debating legislation authorising the referendum earlier this year.
There was support in both the Lords and the Commons for a 40% threshold rule, in which the outcome of the vote would either be invalidated or the result sent back to Parliament for further deliberation if turnout fell below that level.
But ministers insisted that it must be the public - not politicians - who have the final say on the referendum outcome - pointing out that some MPs already get elected on turnouts of less than 40% and they are not disqualified as a result.
They also expressed concerns a threshold could encourage some people not to vote at all in an effort to discredit the result.
Voting experts argue turnout in this referendum is far from trivial, solely of interest to political anoraks, and could have wider constitutional implications.
"It could be worrying for English voters if the referendum is carried by Scottish, or for that matter, Welsh or Northern Irish voters," said Professor Vernon Bogdanor, from the Institute of Contemporary History at King's College London.
"If there is a narrow majority, carried let's say by Scottish voters, the English might well say 'the Scots have their own Parliament, why are they now playing such a large role in how we should elect Westminster'."