English local elections: Greens look for breakthrough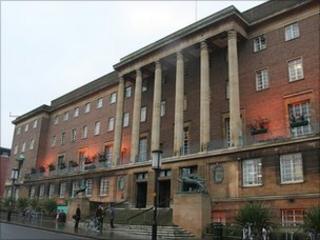 The Green Party are promising to be the "true opposition" to the coalition as they campaign for seats at the English local elections.
The party is pushing an anti-cuts agenda which it hopes will garner support among voters worried about the effect on local services.
It will hope to steal support from disillusioned Lib Dems and to offer a distinct alternative to Labour as a voice of anti-government criticism.
But the Greens are a long way from being significant political players in the majority of town halls in England.
Ahead of elections on 5 May, the party is focusing its efforts on places such as Oxford, Lancaster, Stroud, Brighton and Hove and Norwich, where it already has a considerable presence.
Leader Caroline Lucas says the party can revitalise councils - beginning to feel the pinch from Whitehall spending reductions - with a commitment to invest in public transport, social housing and better social care.
The party's core issue - the environment - is also featuring heavily in the campaign.
'Saving money'
Ms Lucas says that, in areas where it has a strong presence, it will apply pressure to increase home insulation and improve waste management.
In several areas the Greens are campaigning against excessive pay for council executives, in an attempt to show that, while firmly opposed to the coalition's cuts, they are not simply unworldly believers in the restorative powers of spending public money.
Jillian Creasy, Green group leader for Sheffield, outlined the party's strategy when she said: "We want to give voters a real alternative to Labour and the Lib Dems, who simply aren't tackling many of the challenges of the future.
"We would invest in energy saving and renewable energy, saving money and creating jobs. We've shown how these principles can be applied in the city council - even in the face of draconian government cuts."
It is almost a year since Ms Lucas made the Greens' biggest breakthrough, by becoming their first MP.
But will that success in Brighton Pavilion lead to real power at local authority level - actually winning overall control of a council?
Perhaps not at this attempt, but there are areas of the country where the party is already wielding influence and is looking to increase it.
In Norwich, where no party has a majority, the Greens have 14 seats, just behind first-placed Labour, on 16.
'Consolidate'
There is a three-way battle under way in Ms Lucas's home city of Brighton and Hove, where the top-placed Tories, who are running a minority administration with just 25 of the council's 54 seats, are fighting hard against Labour and the Greens, who are both on 13.
Following some bitter recent rows over the authority's annual budget, the Greens and Labour have promised to work together after May's elections to prevent the Tories continuing in power.
The electoral situation is similar in Lancaster, where Labour is on 13 seats, the Greens on 12 and the Conservatives on 11.
But these hot spots are somewhat isolated when looking at the picture across England as a whole.
The Greens have 117 councillors, spread throughout 43 local authorities.
With this in mind, Ms Lucas and her colleagues are keen that candidates should run hard on local issues and that they should try to counter the image of being a "single-issue" party, only concerned about the environment.
Ms Lucas told the BBC: "These are exciting times for us, albeit in very difficult times for the country.
"We certainly want to consolidate the presence that we have on councils. In places like Brighton, Norwich and Lancaster we want to build on that and break through for the first time.
"In places like Lewes and Bath we want to get official group status and we want to increase our representation in a range of other areas.
"So it's incremental progress, but what people are seeing is that, once you get that first Green elected, they like what they see. They want more Greens."
The party is putting up 1,600 candidates on 5 May.
The results will show whether the party is any nearer to achieving its dream of real power.