EU budget rise demand 'totally unacceptable'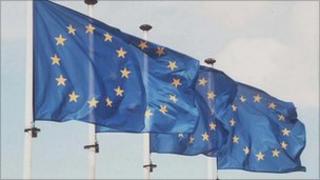 A demand for a 4.9% increase in the European Union's annual budget is "completely unacceptable", a UK government source has said.
Ministers would "work with international partners to fight for the best possible deal for the British taxpayer", they told the BBC.
The EU's executive arm, the European Commission, says the rise is needed to fund existing spending commitments.
But the UK government has called for the budget to be capped in future.
The above-inflation 4.9% increase would take the commission's total funding for 2012 to 132.7bn euros (£117bn).
The Downing Street source pointed out that the budget was within the framework which runs up to 2013, which was agreed to by the previous Labour administration in 2005 and meant the UK did not have a veto.
He added that, last year, the EU Commission had proposed a 6% increase, but that the UK and other EU partners had reduced this to 2.9%.
The UK, France and Germany have also proposed that the EU budget be frozen until 2020, with any increases linked to inflation.