Libya: MPs' concerns over 'mission creep' grow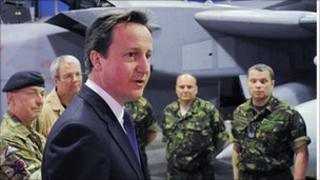 Almost daily, ministers deny that Britain is immersing itself ever more deeply into a civil war in Libya.
Almost daily, a vocal core of MPs on both sides of the House of Commons voice their fears that the coalition government is engaged in precisely that.
And when Parliament returns from its Easter break next week, the questioning will rise to a new pitch.
The latest announcement from Foreign Secretary William Hague that about a dozen UK military officers are being ordered to join the rebels of the Libyan National Transitional Council has added further urgency to the suggestion that Britain is engaged on a gradual, and undeclared, escalation of its role.
The foreign secretary was adamant.
There was no "mission creep", no straying beyond the terms of UN resolution 1973, which authorised "all necessary measures short of occupation" to protect civilians.
A number of MPs are convinced the government is quite deliberately stretching the terms of the UN mandate, and either way, ought to be seeking a fresh parliamentray endorsement. Fulfilling, in other words, the undertaking David Cameron gave to the House when he reported to MPs on the crisis before the Easter recess.
'Not boots on ground'
Since then, while MPs were busy taking a holiday from Westminster or campaigning for the May 5 elections and AV referendum, British policy has taken two significant turns.
On 14 April, Mr Cameron penned a joint article with French President Nicolas Sarkozy, published in London, Paris and Washington and relayed around the world.
It was widely read as suggesting military operations would continue until Colonel Gaddafi was removed from power.
That interpretation was disputed. But the article stated that it was "impossible to imagine a future with Gaddafi still in power".
The notion that the mission objectives have been escalated has gathered force with the announcement that British officers, who will be joined by colleagues from the French military, will "advise the NTC on how to improve their military organisational structures, communications and logististics", and help distribute humanitarian aid.
The British officers, the government says, will be under orders not take part in planning or executing military operations.
Mr Hague said: "It's not boots on the ground, it's not fighting forces. These are not people to fight on the battlefield, these are people to advise on organisation."
'Mission creep'
Conservative MPs are preparing to test that statement in the Commons next week.
John Baron said: "This is clear evidence of mission creep. Now we are beginning to put military personnel on the ground, something that wasn't even discussed when we debated this issue."
Peter Bone said: "We seem to be taking sides in a civil war. That may well be right, but it is not for the government to decide, it is for Parliament to decide."
The example of Vietnam is increasingly cited as the kind of open-ended, and immensely costly, quagmire Britain needs to avoid.
One senior Conservative saw closer parallels with Sierra Leone, where British forces gradually engaged to the point of ground fighting.
A number of MPs, whether opposed or supportive of more active engagement, feel Parliament should be given more of a say.
They will make sure they get it next week.