Ed Miliband to have nose operation for sleep disorder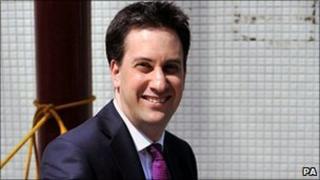 Ed Miliband is to have an operation on his nose during Parliament's summer recess, his spokesman has said.
The Labour leader suffers from sleep apnoea, which interrupts breathing during sleep, made worse by a deviated septum in his nose.
He will have surgery to correct the septum at the end of July.
The Daily Mirror had reported that Mr Miliband was to have his adenoids removed to improve his "bunged up" voice.
But the BBC understands the surgery is not intended to improve his voice.
A Labour spokesman said: "Ed Miliband has been diagnosed with sleep apnoea made worse by a deviated septum.
"On medical advice he is having a routine operation to correct the deviated septum at the end of July with the NHS. We do not intend to comment further."
Obstructive sleep apnoea is a respiratory condition in which the throat repeatedly narrows or closes during sleep, stopping air getting into the lungs and waking the person up.
Symptoms include heavy snoring and excessive daytime sleepiness.
It is more common in men - Comedian Billy Connolly is among sufferers.
It is thought to affect about 180,000 people in the UK and becomes more likely as people get older.