Cable urges support for AV 'to block Tories'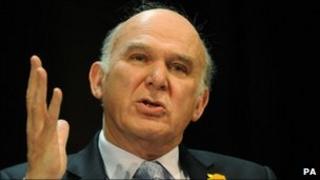 Business Secretary Vince Cable has urged Labour supporters to back a switch to the alternative vote to help prevent Conservative victories.
Labour and the Lib Dems need to join in stopping the Tories taking office without winning the popular vote, he said in the Guardian.
Meanwhile Lib Dem leader Nick Clegg told a rally the current voting system was "not fit for the 21st century".
UK voters will be asked on 5 May whether they want to adopt AV.
Currently Westminster MPs are elected by the first-past-the-post system, but the 5 May referendum will ask about switching to the alternative vote, where voters rank candidates in order of preference.
In his interview Mr Cable said: "Liberal and Labour MPs voted AV through the House of Commons but in 1931 the reform was never completed.
"Conservative governments have dominated ever since without securing a majority of the popular vote.
"We need to make sure the progressive majority wins elections in this century and not the Conservatives as they did, by the back door, for two-thirds of the last century."
Lib Dem leader Nick Clegg, told a rally in Norwich on Saturday that a system fit for the 1950s "is not fit for the 21st Century".
"Last year two-thirds of MPs were elected with fewer than half the votes in their constituencies choosing", he said.
"Just imagine what that actually means: that means that most of us in this country are now represented by MPs that most of us did not vote for. Now where is the democracy in that? Where is the legitimacy in that?"
The Conservatives agreed to a referendum being held as part of the coalition deal with the Liberal Democrats, but most Tory MPs, including Prime Minister David Cameron, are campaigning against any change.
'Brutal personal attack'
The Labour Party is split over AV - leader Ed Miliband supports changing the voting system but many senior politicians in his party have joined the "no" campaign.
Mr Cable also criticised the personal attacks on Liberal Democrat leader and Deputy Prime Minister Nick Clegg by Conservatives during the campaign.
Mr Cable told the Guardian he was alarmed to find a leaflet from the no campaign delivered through his door, which included a "brutal personal attack on Nick Clegg for his having loyally supported coalition policies including difficult public spending cuts".
The prime minister, he added, "may not directly control what his supporters are up to. But he must make it clear that he doesn't condone and will endeavour to stop personal attacks on his deputy for loyally supporting coalition policy."
'Incompetent'
However, Scotland First Minister Alex Salmond, a supporter of AV, has also attacked Mr Clegg.
"The conduct of the [yes] campaign has been incompetent, the timing of the campaign is disgraceful," he told the BBC Radio 4 Today programme.
"I think Nick Clegg has got a lot to answer for to supporters of proportional representation like myself."
Labour MP Tom Harris, who is campaigning against AV, said changing the vote system to one that is "slightly more complex" will affect turnout in future elections.
"I guarantee that there will be a drop in turnout at the next general election, and at a time when we are trying to encourage participation that is not acceptable," he said on BBC Radio 4's Today programme.
"Almost every claim that is made for AV is false - it doesn't guarantee at least 50% of the vote for an elected MP, it doesn't result in MPs working harder, it doesn't result in any effect whatever on the expenses system.
"So what's the point of spending £100m on a referendum for a system that is actually worse than first past the post?"
He said AV would lead to "more deals behind closed doors".