AV referendum: Bid for Labour swing voters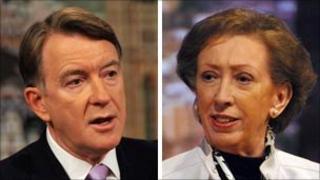 Senior Labour figures on both sides of the referendum on voting change are stepping up their appeal for crucial swing voters within the party.
Former business secretary Lord Mandelson said voters should not pass up the chance to vote Yes and damage the Conservatives.
But former foreign secretary Margaret Beckett said they should say no to an "expensive and complicated" system.
A UK-wide referendum on electoral change will be held on 5 May.
The choice is between retaining the current first-past-the-post system or switching to the alternative vote (AV).
The referendum was a Liberal Democrat condition for entering coalition with the Conservatives.
'Political fudge'
But with all Lib Dems in the cabinet backing the change and their Tory colleagues speaking against it, the two parties making up the coalition have been increasingly pitted against one another during the campaign.
Labour leader Ed Miliband is in favour of switching to AV, but other senior party figures and former ministers, including Lord Prescott, Lord Reid and David Blunkett, are arguing against it.
Lord Mandelson accused David Cameron of "pressing the panic button" over AV, and said he and his party were fighting "personally and viciously" to retain first-past-the-post.
"His leadership is on the line," he told the BBC.
"I think he would never be forgiven by his party if there was a Yes vote. It would put a heavy weapon into the hands of his party critics and detractors and would undermine him very greatly."
Lord Mandelson said he believed AV was "a fairer and better electoral system" which would make MPs work harder to "reach out to voters across the party spectrum".
'Political fudge'
Meanwhile, Ms Beckett, who is president of No to AV, said it was "more important than ever that we put aside party differences for the good of the country and that everyone comes out to vote against the unfair and expensive AV system".
"I strongly urge people to look at the two voting systems... our current system is simple, fair and decisive. AV is an expensive and complicated political fudge," she said.
The comments came after the row over AV intensified over the weekend, with Deputy Prime Minister Nick Clegg accusing Prime Minister David Cameron of aligning himself with the far-right British National Party "in defence of the indefensible" first-past-the-post electoral system.
Lib Dem minister Chris Huhne, who refused to rule out resigning as energy secretary over the tensions, threatened legal action over "untruths" he said had been told by Conservatives opposed to the alternative vote system.
The Electoral Commission says it cannot investigate claims of dishonesty during the AV referendum campaign.
Meanwhile, leading Conservative backbencher Mark Pritchard MP, Secretary of the 1922 Committee, told Mr Clegg and Mr Huhne to "stop their whinging" about the way opponents of AV are campaigning.
BBC Two's Newsnight will be running a special report and debate on AV from 2230 BST on Tuesday.