English local elections: UKIP on the up, says Farage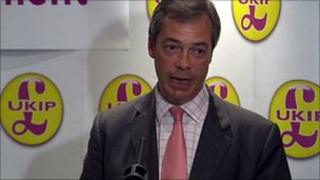 UK Independence Party leader Nigel Farage says his party is "on the up" and hopes to score significant wins in the English local elections.
He said UKIP was fighting a "big, positive campaign" with 1,225 candidates, boosted by a strong showing in the Barnsley Central by-election.
UKIP says it is campaigning on a "pro democracy" message - aiming to rejuvenate local politics.
Local elections will be held across England on 5 May.
More than 9,500 council seats will be contested in 279 local authorities across England, on the same day as devolved elections in Scotland, Wales and Northern Ireland and a referendum on the future of the UK electoral system.
Mr Farage had an upbeat message for activists at his local elections campaign launch on Wednesday, saying UKIP was attracting more young members - the party says more than 100 of its candidates are under 25.
"We have been known for years for being against something - we are against the European Union - but now we have become a party that is for something.
"We are for democracy, we are for the self government of this country, we are for the re-empowerment of local government, which was so emasculated during the 80s and 90s and we are for that ultimate devolution which is direct democracy - we believe that at a national and local level people should have the ability to call binding referendums on subjects they care passionately about."
UKIP is focusing its local election campaign on "fat cat executives who are currently directing cuts at vital front line services while protecting trendy non-jobs".
He said the three biggest parties "basically all agree" on the big issues while UKIP would offer a "positive voice of opposition" and he wanted to build on the party's number of councillors "significantly".
The party currently has 19 councillors in local authorities in England - not including town and parish councils. In March it came second in the Barnsley Central Westminster by-election. It says it is fielding its highest number of council candidates ever, 1,225.
Mr Farage said the party had focused its Barnsley campaign on attacking highly paid council executives, which had proved successful: "I am confident that we will double our scores nationally on where we were in [the local elections in] 2007.
"I think UKIP is a party that is really on the up, now that we have got the positive bit between our teeth, we are really going to go places. There are now four parties in politics in this country, we have left the Greens and the others way behind."