Tony Blair and Gordon Brown royal wedding 'snub' row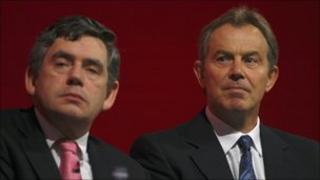 Senior Labour figures have criticised the decision not to invite Tony Blair and Gordon Brown to the royal wedding.
St James's Palace said they were not invited - while their Conservative predecessors Sir John Major and Baroness Thatcher were - because they are not Knights of the Garter.
But Labour MPs said the decision "looks partisan" and accused Downing Street of having a hand in their omission.
A spokesman for Number 10 said the guest list was a matter for the palace.
About 2,000 people have been invited to Westminster Abbey for the wedding of Prince William and Kate Middleton on 29 April.
More than 200 of the guests will be drawn from the ranks of government, Parliament and the diplomatic corps.
Baroness Thatcher will not be attending due to ill health, but Sir John Major, who succeeded her as prime minister, will be there.
When Prince Charles and Lady Diana Spencer were married in 1981, all living prime ministers - Harold Macmillan, Alec Douglas Home, Harold Wilson, Edward Heath and James Callaghan - were invited.
'Vindictiveness'
St James's Palace has dismissed any suggestion of a "snub" towards Mr Blair and Mr Brown, but shadow justice minister Chris Bryant said he was unhappy with their exclusion.
"I really don't want to rain on anybody's parade because I really wish the happy couple a lovely day on Friday," he said. "I just think they've been let down by their advisers, or by Number 10, because I'm sure this list will have been passed through Number 10.
"I think the same same proprieties should have been followed as for Charles and Diana's wedding and that was that all former prime ministers should be invited."
Mr Bryant added: "I think it shows a bit of vindictiveness from Number 10."
Former Europe minister Denis MacShane said he had tabled a Parliamentary question, asking what role government officials had played in drawing up the guest list.
"Denigrating Tony Blair and Gordon Brown seems to be an obsession of David Cameron's and I think we need to know if any politician was involved in giving advice to the palace," he told the BBC.
"If you look at the guest list, it's huge, and it's just slightly odd that two men who've occupied the highest office of the land aren't on it."
Graham Allen, Labour MP and chairman of the Commons political and constitutional reform committee, said: "I think it's an omission and it looks partisan, when I'm sure that their last intention was to appear like that.
"I think someone in the office somewhere has made a mistake and I hope it will be put right so that all prime ministers, of all parties, who are alive and kicking can be invited."
'No protocol reason'
St James's Palace said William and Kate had been in charge of the guest list, but had "worked closely with the Queen's and Prince of Wales's Households where necessary".
"Sir John Major and Baroness Thatcher were invited as they are both Knights of the Garter, along with Prince William," a spokesman said.
"Furthermore, Sir John Major has a personal connection to Prince William, as he was appointed guardian to Prince William and Prince Harry following the death of the late Diana, Princess of Wales.
"This is a private wedding and not a state occasion, unlike [the Queen's wedding] in 1947 or 1981, so there is no protocol reason to invite former prime ministers."
A Downing Street spokesman said: "The guest list is a matter for the palace and the royal household and they have explained the reasoning behind it."
Mr MacShane said that of the five prime ministers invited to Charles and Diana's wedding, only one was a Knight of the Garter.