Osborne records 'erotic dreams' message for BBC host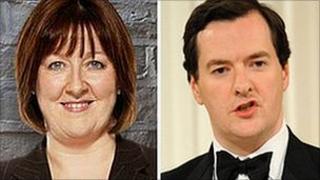 The chancellor has recorded a special - rather flirtatious - message for a BBC presenter after she admitted on air to having erotic dreams about him.
George Osborne wished Radio 5 live's Shelagh Fogarty well in her new lunchtime slot - and suggested she might enjoy the extra sleep.
"More hours for those dreams you've been having," he added - cheekily.
Fogarty said "for political balance", listeners should know she had also dreamt about Labour's Neil Kinnock.
The message will be played to Fogarty during her final breakfast show on Thursday.
'Rumbled'
The subject of erotic dreams was discussed on the programme earlier this year and initially, co-presenter Nicky Campbell referred only to a member of the team who had dreamt of Mr Osborne.
But when a dream expert was quizzed about the significance of it, he revealed that the person in question was Fogarty.
Amid much laughter, she admitted: "I'm rumbled, I'm going to come clean now.
"For political balance, you need to know that some years before it was Neil Kinnock.
"So I think the fact that it's been Neil Kinnock then George Osborne, but never a Lib Dem... what does that tell you?"
Mr Osborne agreed to record the message as part of the presenter's farewell from the rest of the breakfast team.
He said: "Well Shelagh. It's George Osborne here, the Chancellor of the Exchequer. I just wanted to say it's sad to be losing you from the breakfast programme, but I know you'll do a great job on the lunchtime programme.
"It does give you, of course, more hours' sleep every day. More hours for those dreams you've been having.
"And so I'm sure you'll have sweet dreams and I look forward to being interviewed by you on your lunchtime programme."
Radio 5 live's expert told Fogarty that erotic dreams were "about becoming more intimately aware of your own characteristics".
"So dreaming about George Osborne, he's in charge of the economy, he's in charge of value... it's about how you value yourself," he said.
"It's got nothing to do with George Osborne."