Thatcher tribute to man who played key Falklands role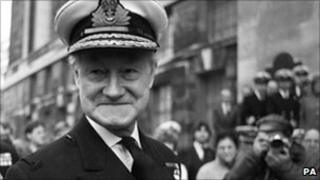 Lady Thatcher has paid tribute to one of the Navy's most senior commanders during the 1982 Falklands conflict following his death.
Former Admiral of the Fleet, Sir Henry Leach, died on Tuesday aged 87.
He was widely credited with persuading her that the Falkland Islands could be regained by military means following their invasion by Argentine forces.
In a statement, the former prime minister described the late admiral as an "outstanding military commander".
Lady Thatcher said she was "greatly saddened at the news of his death".
Sir Henry Leach served in the Royal Navy during the Second World War before rising up the ranks, becoming First Sea Lord and Chief of Naval Staff in 1979.
It was in that role that he told Lady Thatcher that he believed a task force could be assembled and sail for the south Atlantic within days - in the face of doubts from other senior officers and some leading politicians.
In a 1992 interview, he said he had told the prime minister it would be possible to dispatch a taskforce during what was seen as a crucial meeting in Parliament with the then defence secretary John Nott.
He told Channel 4 that the PM was "seeking positive factual data" on whether to go ahead and he had told her "we could, and in my judgment, we should".
To not do so or to do so "half-heartedly", he had added, would be to show we were "living in a different country which counts for very much less," he said.