Ex-Met chief Blair attacks police commissioner plans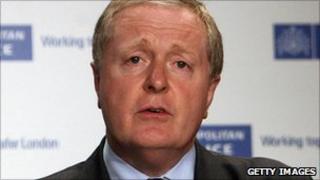 The former commissioner of the Metropolitan Police has called the plan for elected commissioners "the most lamentable" he has come across.
Ian - now Lord - Blair, a cross-bench peer, was speaking during a House of Lords debate on the new policing bill.
His comments came as Liberal Democrat peers confirmed they would seek to delay the bill in order to force the idea to be piloted.
Home Office Minister Baroness Neville-Jones said the changes could not wait.
Under the current system the home secretary sets overall strategies and provides national funding to police authorities - made up of local councillors and appointees - who fix local budgets and hold police forces to account, except in London.
The new plans would see police commissioners replace 41 police authorities, which the government argues are remote and invisible, and manage police budgets, set local policing priorities and hire and fire chief constables.
'Potential cuckoo'
If legislation goes through as the government hopes, the first commissioners will be elected in 2012.
But the Lib Dems say the idea should be piloted in two or three areas for three years before being rolled out across England and Wales.
Lady Hamwee said: "This bill is about public service reform and constitutional experiment and is it not sensible to make sure that we - and I stress the 'we' - get it right?"
Labour are also calling for a pilot period.
Speaking for the opposition, Lord Hunt said: "I have no doubt that a single, politically-motivated police and crime commissioner will make it increasingly difficult to ensure that that political independence is maintained."
Lord Blair - who was in charge of the Met Police from 2005 to 2008 - went further.
"I fear that the idea is an unintended changeling, a potential cuckoo in the nest of policing," he said.
"It will set back 60 years of progress towards the establishment of the operational independence of the police which is the jewel in the crown of British policing."
Lord Blair argued that an elected commissioner "with an eye on popularity" would have a damaging effect on the work of a chief constable.
And - in an apparent dig at London Mayor Boris Johnson - he told peers he was the only former police chief in the Lords who knew what it was like to serve under someone who was acting like an American mayor.
Lord Blair resigned from the Met in 2008 saying he did not have the full backing of Mr Johnson.
But Baroness Neville-Jones insisted that the operational independence of the police would remain "sacrosanct".
"The bill is a package of measures carefully balanced to tackle problems in our society through restoring power to communities and professionals, where they belong," she said.
And she added: "Some have argued there is need to delay these reforms. We do not agree. These reforms cannot wait."