MPs back review of expenses system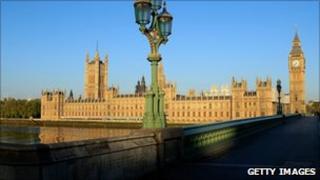 MPs have voted in favour of allowing one of their committees to review the laws governing their expenses system.
They backed a motion, brought by Conservative backbencher Adam Afriyie, to examine the work of the Independent Parliamentary Standards Authority.
Set up after the expenses scandal, Ipsa has been criticised by MPs for being too costly and bureaucratic.
But Cabinet Office Minister Mark Harper said there could be "no going back" to a less transparent system.
Ipsa was created by the 2009 Parliamentary Standards Act, following the expenses scandal which saw scores of MPs criticised for their claims - and repayments totalling £1.46m.
The old system, run by the Commons officials, was widely regarded as discredited and MPs backed plans to set up an independent system.
But some have since complained that new rules on expenses discriminate against MPs with families and those who are less well off.
Mr Afriyie's motion proposes that the currently dormant Members' Allowances Committee be allowed to take another look at the legislation which set up Ipsa.
"This issue of expenses is incendiary, but it is our duty to act without fear or favour in the interests of democracy, our constituents and the taxpayer," he said.
"Clearly there were some disgraceful acts that have happened in the past and nobody is condoning that and we did need to make changes and I welcome the progress that has been made.
"But we must now calmly take a look at, review that Act and the operation of that Act and the current arrangements."
'Uncomfortable'
Mr Afriyie said many MPs were being "constantly harangued" over their expenses claims and 92% were "not actually claiming what they are entitled to claim just so they are as careful as they can possibly be".
Forty, he said, were facing possible investigation for some "very minor, almost irrelevant issues".
Mr Afriyie said MPs accepted the need for an independent body to oversee remuneration, but "tough questions need to be asked" about whether it was providing value for money for the taxpayer and was taking up time that could otherwise be devoted to constituency work.
Following the endorsement of the motion, Mr Harper said ministers would look "very carefully" at any recommendations the committee made, but did not want to rush into changing the legislation on expenses.
"We have an independent system with transparency and it is very important that we stick with that and I think it is very important that the committee bears that in mind," he said.
The minister acknowledged that the way Ipsa published details of claims "can be uncomfortable" for MPs, but said: "That is something we are going to have to get used to and there's no going back."
Watered down
BBC parliamentary correspondent Mark D'Arcy said Mr Afriyie had been planning to table a much tougher motion - which the government opposed.
However it was watered down in order to avoid the possibility of another blow to its authority following the defeat of the policing bill on Wednesday night.
Mr Afriyie will now be installed as the chairman of the committee for the purposes of the review, he added.
At a Commons committee meeting on Ipsa's budget on Tuesday, Conservative MP Laura Sandys suggested that the time MPs' staff spent inputting expenses details into the new system cost the equivalent of £1.9m.
But Ipsa's director of operations Scott Woolveridge said while it was difficult to estimate the costs - which Ipsa believed to be between £136,000 and £150,000 a year - he added that it was more accurate than compiling details centrally.
The body's chairman Sir Ian Kennedy added: "Clearly from our perspective and from the perspective of taxpayers, it is right that some time is spent rendering account as to what is done with tens of thousands of taxpayers' money."
"It may well be that effort by MPs in operating the older system was somewhat less.
"But the concomitant effort on the other side of the fence, in terms of administering it through the fees office was significantly more expensive than the cost that we currently pay, when you compare staff costs for example."