Lord Hanningfield 'claimed for hotel while on plane'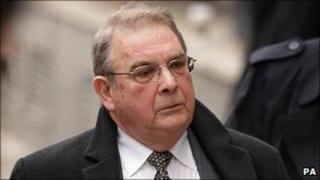 A Conservative peer accused of fiddling his parliamentary expenses claimed for accommodation when he had in fact been on a plane to India, a court has heard.
Lord Hanningfield, 70, is appearing before Chelmsford Crown Court accused of six charges of false accounting between March 2006 and May 2009.
Prosecutor Clare Montgomery QC accused him of claiming for hotels in London when he had returned to his Essex home.
Lord Hanningfield, appearing under his name Paul White, denies the charges.
Ms Montgomery told the court: "We will call evidence to establish that each one of Lord Hanningfield's claims for night subsistence was false.
"He never stayed overnight in London at any stage during the period in the charges.
"On the vast majority of nights he went home to Hanningfield.
"On the few occasions he did not, he was not in London. He was variously on an airplane bound for India or at hotels outside London all paid for by someone else, mainly Essex County Council."
Travel costs
She suggested that on some occasions, the accused would make false claims for travelling expenses to mask dishonest claims for overnight subsistence.
She told jurors: "You will need to consider whether the false travel claims were deliberately designed by Lord Hanningfield to hide the fact that he returned home to Hanningfield every night, normally by car.
Miss Montgomery highlighted some of the instances when White was said to have made false claims for travel costs.
She said that in March 2006, White made claims for travel every Friday of the month, when the Lords rarely sits on Fridays.
He also claimed for a 15-mile journey from Chelmsford railway station to his home in West Hanningfield when the journey was actually only 7.5 miles, jurors were told.
The former leader of Essex County Council was charged in February last year.
He was suspended from the Parliamentary Conservative Party and stood down as a frontbench business spokesman in the House of Lords and as leader of Essex County Council.
He said at the time that the accommodation claims had been made in good faith.
His trial is expected to last between five and eight days.