Downing St to drop fake names on letters, says Cameron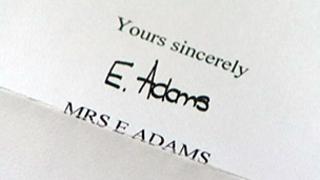 Correspondence from Downing Street officials will no longer be signed with fake names, David Cameron has said.
The policy change follows a complaint from Labour MP Sir Gerald Kaufman after he received a letter signed by "Mrs E Adams", only to be told it was a computer-generated pseudonym.
The use of false names on letters from No 10 began in 2005 in response to a security threat.
But the prime minister said this would "no longer" be the case.
In the Commons last week, Sir Gerald revealed how he had written to Mr Cameron at the request of a constituent and received a reply from 10 Downing Street signed "Mrs E Adams, direct communications unit".
In a written reply, the prime minister said: "Correspondence was handled under arrangements put in place in 2005 when on security advice, following an incident in which a member of staff was personally targeted and threatened, members of staff were advised not to use their names.
"After review this approach will no longer be used."
A Downing Street spokesman said it had not yet been decided how letters from staff would be signed off in future.