Liam Fox row: Where does the UK's aid money go?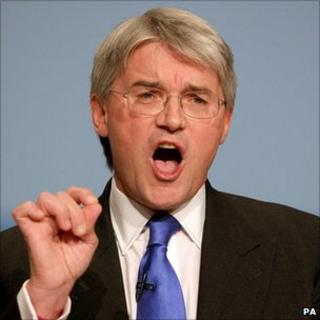 The image most people have of overseas aid is of a white nurse cradling a hungry African baby.
But this is inaccurate.
The people spending aid money these days are more likely to be civil servants in suits, working on behalf of the world's poor than nurses in uniforms.
Most aid, including most of the British government aid that has been highlighted by a political row today, is channelled through governments and expert institutions like the World Bank.
Relatively little government money is in fact spent on immediate humanitarian crises.
The emphasis today is on building the capacity of developing country governments - not just giving handouts to the poor.
Defence Secretary Liam Fox said in a letter to Prime Minister David Cameron, leaked to The Times, that he did not agree with making a legal commitment to increasing the aid budget to reach the United Nations target of 0.7% of national income.
This could "limit Her Majesty's government's ability to change its mind", Mr Fox wrote.
World rankings
Aside from the political fallout - Mr Fox was once a contender for the leadership of the Conservative Party and the move criticising Mr Cameron's aid policy is a shot across his bows - the row highlights what the money is being spent on.
This is especially the case because aid is one of the very few areas of government expenditure which is not affected by the programme cuts.
Britain currently spends nearly £8bn a year on aid, and has committed to increase this to £11bn in the next few years.
It is one of the largest programmes in the world. Among western countries that report their aid figures Britain ranks fourth - after the US, France and Germany.
The vast majority of the £8bn is spent by the Department for International Development (DfID), which is effectively the UK's "aid ministry".
According to an analysis by the UK government-established watchdog, the Independent Commission on Aid Impact, 27% of DfID's money went directly to developing country governments "to spend on the priorities they set for themselves for helping their citizens out of poverty".
The philosophy behind this "direct aid" is that developing countries will only climb out of poverty in the long term if their own governments take responsibility for serving their populations and "own" the programmes they are administering.
Direct aid is very different from "project aid" where, typically, outsiders manage an agricultural scheme or a medical programme for a set period of time.
'Giving away power'
A further one third of DfID's spending goes to expert international bodies like the World Bank and the United Nations.
Only a relatively small amount of DfID money - £435m - was spent by the department directly on humanitarian projects (for example, relief food and medical care in Sudan or Ethiopia).
However, the government also gives some money directly to charities such as Oxfam and Save The Children, who carry out their own humanitarian interventions.
Partly because his budget is an unusual "ring-fenced" one, while other departments are being cut, the head of DfID - International Development Secretary Andrew Mitchell - constantly emphasises his quest for value for money, for both aid recipients and the British taxpayer.
He welcomed the creation of the recently establishment Independent Commission for Aid Impact for exactly this reason:
"I'm doing an unusual thing", Mr Mitchell said at the launch of the Commission last week.
"I'm giving away my power to sweep inconvenient truths under the carpet, were I minded to do so. This is an independent aid watchdog - it reports to Parliament, not the executive."
However, there are clearly risks involved in giving aid to others to administer - however much scrutiny of its books DfID allows, and however closely it monitors how governments and UN bodies, for example, spend its cash.
Those risks may increase if the political row over aid continues.
If it intensifies it would not be surprising if leaks of information about unusual or allegedly wasted aid money followed the leak of Mr Fox's letter to the PM.