Cameron says 400 troops to return from Afghanistan within year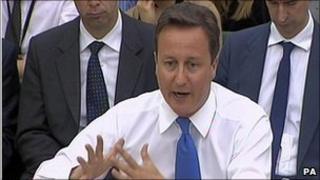 David Cameron has told MPs that more than 400 UK troops will be coming out of Afghanistan in the next year.
But he said extra forces had gone to the country recently and the departures would mean the "enduring level" of 9,500 personnel being stationed there would stay the same.
The comments follow reported concern in the military about demands for an early withdrawal from the conflict.
The government's aim is for UK combat troops to leave Afghanistan by 2015.
Currently about 9,500 are stationed in the country, where allied operations began in 2001.
President Obama is also scheduled to give a speech next month spelling out US plans.
'Slightly more'
Speaking to the Commons Liaison Committee, made up of the senior MPs heading up select committees, Mr Cameron said: "This year there will be some troops coming home. This is not a new announcement in any way - our enduring force level remains at 9,500.
"But, as you know, our force level has been above that, if you include special forces and some of the extra operations we have undertaken.
"If you look at things like what is happening with the troops that went in to guard the airport at Kandahar and also some people involved in the air bridge and some people involved in the rapid reaction force - there will be around 400, slightly more, troops coming out of Afghanistan in the coming year up to February 2012. But the enduring force level remains at 9,500."
Defence sources stressed this was not the beginning of the UK's withdrawal from Afghanistan but said the prime minister had wanted to show progress was being made towards the eventual goal of having no combat troops in the country in 2015.
It was added that those returning would have come to the end of their duties and returned whether or not the UK speeded up its withdrawal.
The 400 would include some, like forces working out of Kandahar airbase, who were no longer needed, the source added.