Expenses trial: Lords rules 'ambiguous'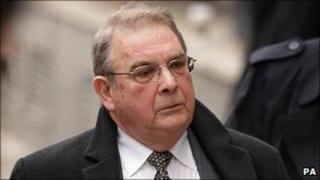 House of Lords expenses rules were ambiguous with peers not needing to provide proof of what they had spent, a trial has heard.
Michael Pownall, former Clerk of the Parliaments, was giving evidence in the trial of Lord Hanningfield, 70, who denies six counts of false accounting.
Mr Pownall told Chelmsford Crown Court members regarded expenses as a "reimbursement system".
He also said there was some confusion about how much members could claim.
'Lack of clarity'
Lord Hanningfield, appearing under his name Paul White, is accused of making false claims for accommodation and travel costs incurred before or after performing his duties in the House of Lords between March 2006 and April 2009.
Giving evidence, Mr Pownall said: "There was a lack of clarity about how much members could claim within the maximum amounts fixed.
"I still believe that members regarded it as a reimbursement system but without any requirement to put in invoices it was their decision as to how much to claim."
He later added: "There was ambiguity and uncertainties in the amounts which members could claim, I certainly accept that.
In cross-examination, defence counsel Alun Jones QC claimed that many peers regarded daily expense limits as allowances to which they were entitled, regardless of what they had spent.
He quoted a 2008 internal review which found: "In practice over the years the 1/8expenses 3/8 scheme has been used to generate an income for some peers."
'Pay back'
This meant that they were claiming more money back than they had actually paid out.
The vast majority of peers were claiming the maximum allowance for accommodation, subsistence and travel, the jury was told, but were not required to provide receipts to prove their outlay.
Mr Pownall said: "I had no reason to investigate because it was a system without receipts or invoices... I took the system as it was."
However, in re-examination prosecutor Clare Montgomery QC asked him: "Was there any ambiguity about whether travel was a reimbursement scheme... or a general allowance which you could use for anything?
Mr Pownall said: "It was to pay back what you spent."
She also asked: "Was there any ambiguity in relation to the rule that you could only claim night subsistence for nights you spent in London?"
He replied: "No, no ambiguity."
The trial, which is expected to last between five and eight days, continues for a fourth day on Thursday.