Will the UK deploy helicopters to Libya?
Nick Robinson
Political editor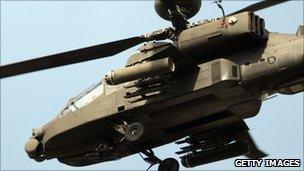 The prime minister has asked for further information before agreeing to deploy Apache ground attack helicopters in Libya.
David Cameron's request follows a meeting of the National Security Council in Downing Street this morning while he was en route to the G8 Summit in France.
The Chief of the Defence Staff, General Sir David Richards, said after the meeting that deploying Apaches would - if agreed - be part of "ratcheting up" the pressure on Colonel Gaddafi.
I understand that the prime minister is considering the military's assessments of the risks involved in deploying helicopters which make easier targets than high-flying jets in a country which had thousands of surface-to-air missiles.
A decision to deploy four Apaches could be made as early as this evening.
The helicopters and their pilots are currently on exercise in the Mediterranean.
Their military value is that they will allow swifter attacks on smaller targets in urban areas than are currently possible using jets alone.
The French government has already said that it will be deploying French Tiger helicopters.