Economic body OECD reaffirms support for UK debt plan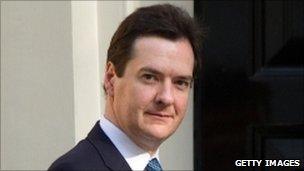 The head of a leading economic body has insisted he does support the UK government's deficit reduction strategy after his colleague appeared to suggest the pace of cuts might be too fast.
The OECD's chief economist Pier Carlo Padoan said earlier that UK plans might have to change if growth stayed weak.
But secretary general Angel Gurria said that would only be needed if there was "a very dramatic drop" in growth.
Labour had seized on Mr Padoan's words and urged ministers to change course.
The OECD - the Organization for Economic Co-operation and Development - has previously been supportive of the government's approach to the deficit.
But in an interview with the Times newspaper, Mr Padoan said: "We see merit in slowing the pace of fiscal consolidation if there is not good news on the growth front.
"We have seen that growth numbers are a bit weaker than expected. Should that continue to be the case, there is scope for slowing the pace."
For Labour, shadow chancellor Ed Balls described the OECD's remarks as "a very significant intervention".
"Even the OECD, which has traditionally supported government economic policy and George Osborne's deficit reduction plan, is now saying the chancellor should consider changing course," he said.
Asked later whether Mr Padoan's words signalled a watering down of the OECD's support for the government, Mr Gurria said: "Oh no, I was there.
"He was being questioned about a hypothetical example about a very dramatic drop in the rate of growth, and whether one would then have to change course.
"He said that if there are some terrible results or whatever we'll have to take a look at it. But no way was there any signal of a change in course."
Asked again if the OECD backed the coalition's deficit reduction plans, Mr Gurria said: "Absolutely. We think it's the way to go. We have said that you should stay the course and continue to support this route."
The Treasury said the OECD had never swayed in its support for the government's strategy.
Conservative MP Matthew Hancock said: "Ed Balls' credibility has today sunk to a new low. His typically misleading attempt to claim the OECD's support has spectacularly backfired.
"The OECD, the IMF and every major business organisation in the UK support the Government's plan."
Speaking on Wednesday, Prime Minister David Cameron said the government had been right to prioritise deficit-reduction since coming to office and cited the fact market interest rates had fallen in the UK - while rising elsewhere in the EU - as "proof" of international support for its deficit plans.
Related Internet Links
The BBC is not responsible for the content of external sites.