UK calls for G8 financial aid for 'Arab Spring'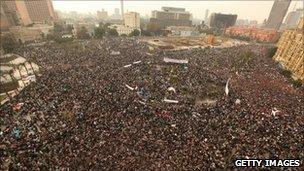 Leading nations' financial support for the so-called Arab Spring will reduce extremism and immigration, UK Prime Minister David Cameron has said.
The UK is giving £110m over four years for political and economic development in North Africa and the Middle East.
At the two-day G8 summit in France, the UK and US are pushing for other pledges of financial support.
Mr Cameron said the summit should send a message to the countries of the Arab Spring that "we are on your side".
The £110m from the UK will come out of the existing Department for International Development budget.
The money constitutes the UK's contribution to calls for the G8 group of leading industrialised nations to do all they can to encourage the so-called Arab Spring.
The Foreign Office said up to £40m would be spent over the next four years to improve political participation, the rule of law and freedom of the press.
A further £70m will go towards economic reform, helping to boost youth employment, strengthen anti-corruption measures and promote private sector investment.
'Pressures of immigration'
Speaking in Deauville, where the G8 summit is taking place, Mr Cameron said: "I want a very simple and clear message to come out of this summit, and that is that the most powerful nations on Earth have come together and are saying to those in the Middle East and North Africa who want greater democracy, greater freedom, greater civil rights, we are on your side.
"We will help you build your democracy, we will help your economies, we will help you build trade. We will help you in all the ways we can because the alternative to a successful democracy is more of the poisonous extremism that has done so much damage in our world."
The UK commitment is a significant increase on the £5m of funds announced for the Arab Partnership Initiative in February by the foreign secretary.
Mr Cameron added: "What I'd say to everybody about the issue of overseas aid and the money that will be pledged at this summit is that there is a real case for saying, if we can secure greater democracy and freedom in countries like Egypt and Tunisia, that is good for us back at home.
"That will mean less extremism, it will mean more peace and prosperity, and it will mean there won't be the pressures of immigration that we might otherwise face to our own country."
The wave of uprisings in the Arab world began in Tunisia in January and led to the fall of the government there, and subsequently in Egypt.
There have also been pro-democracy demonstrations in countries including Syria, Bahrain and Yemen, and the suppression of a similar movement in Libya has led to the intervention of Nato to protect civilians.
International Development Secretary Andrew Mitchell said: "Today's announcement of a new UK Arab Partnership recognises that poverty and disenfranchisement are the major drivers of the demand for change.
"It helps to address key grievances, providing people with better education and economic opportunities and improved access to global markets.
"We know that economic transformation alone without real political change - which gives people a voice, dignity, security and justice - won't work. And that is why we will focus on the twin tracks of economic and political reform."
Related Internet Links
The BBC is not responsible for the content of external sites.