Record number of new laws made in 2010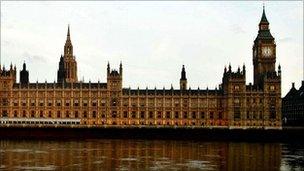 A "late push" of new laws in the last months of the Labour government helped to make 2010 a record-breaking year for new legislation, researchers say.
In total, 3,506 laws were introduced in the UK last year - up 41% on the previous year - legal information company Sweet & Maxwell reports.
Some 1,788 of them - 51% - were introduced before the 6 May election.
In opposition, the Conservatives vowed to bring in fewer laws and actively cut the legislative burden for businesses.
Sweet & Maxwell said there were the equivalent of 13.8 new laws every working day in 2010.
Almost all - 98% - were introduced as statutory instruments, which do not require full debate in Parliament, the company said.
By comparison, there were 2,492 in 2009 and 2,148 in 2008. The previous high was in the election year of 2001, when the total was 2,725.
During Margaret Thatcher's period as prime minister, from 1979 to 1990, an average of just 1,724 laws were passed each year.
A spokesman for Sweet & Maxwell said there did appear to have been "a last-minute push" from Labour.
"As part of their pre-election pledge, the Conservatives had announced that they would introduce less new laws," he said.
"Commentators have questioned how easy it will be for the coalition to implement their comprehensive reform agenda without having to increase substantial amounts of new legislation.
"Business lobby groups in particular will be keeping a close eye on how closely the government sticks to its promise."
Among the laws passed between January and May last year were the Equality Act, which gives employees new protections against discrimination at work, and the Digital Economy Act, which obliges internet service providers to disconnect persistent illegal file-sharers.
Related Internet Links
The BBC is not responsible for the content of external sites.