Daily Mail escapes censure over Fred Goodwin story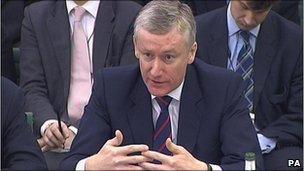 Lawyers for a woman who allegedly had a sexual relationship with Sir Fred Goodwin have failed to persuade a judge to take action against the Daily Mail.
The lawyers said the paper "deliberately flouted" a High Court order keeping her name secret.
Mr Justice Tugendhat declined to refer the claim to the Attorney General.
But he said the woman was free to refer the matter herself to the Attorney General, who was free to take action himself if he wished.
Lawyers for the Daily Mail said there had been no "deliberate intention" to flout or frustrate the court order and argued that a report in the newspaper had not breached it.
In a written judgment, Mr Justice Tugendhat said: "The reason that I decline to make the reference is that, in my judgment, it would not assist the Attorney General.
"The lady is free to refer the matter to the Attorney General herself, and the Attorney General is free to act of his own motion.
"This case has received extensive coverage in many newspapers and other news media and has been the subject of public judgements.
"If the Attorney General does decide to consider this matter, the contents of this judgment will be available to him."
Related Internet Links
The BBC is not responsible for the content of external sites.