Libya: Cameron supports increased pressure on Gaddafi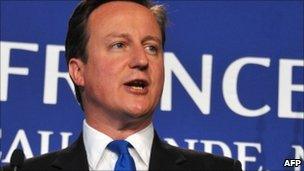 Prime Minister David Cameron has said it is the right time to be "ratcheting up" pressure on Libyan leader Muammar Gaddafi.
A day after approving the use of UK attack helicopters in the country, he said the two-month operation against Col Gaddafi was "entering a new phase".
In a joint statement, leaders of the G8 meeting in France said Col Gaddafi "must go".
Downing Street said intelligence suggested Col Gaddafi is "on the run".
Mr Cameron said: "The G8 nations today reached a unanimous and final verdict on Gaddafi and his regime. Gaddafi has lost all legitimacy. He has no future in a free, democratic Libya. He must go."
He said international efforts had succeeded in turning back Col Gaddafi's troops at the city of Benghazi, "preventing a bloody massacre", and had also helped in Misrata. The use of UK Apache attack helicopters was another way of increasing the pressure, he added.
"Now there are signs that the momentum against Gaddafi is really building. So it's right that we are ratcheting up the military, the economic and the political pressure on the Gaddafi regime," Mr Cameron said.
However Mr Cameron played down an offer from Russia for mediation.
He said: "The most important thing is to send the same message down the pipe, as it were, every time one of these offers appears - which is... Gaddafi has to go.
"There are all sorts of things that can then follow from that. There's a pathway to transition, to democracy, to greater support for freedom and everything else. All sorts of conversations can take place after Gaddafi has gone.
"And I think all offers of mediation at the moment should be met with that pretty clear response."
On Thursday the prime minister approved the use of four Apache attack helicopters in Libya. They are due in operation within days, although a date has not been announced.
A Downing Street spokesman said: "Ministers have given clearance in principle for the deployment of attack helicopters in Libya. It is a matter now for military commanders to make decisions on deployment."
The Apache helicopters are normally based at Wattisham, Suffolk, and are on exercise in the Mediterranean.
If called upon, they will allow for swifter attacks on a wider range of smaller targets in urban areas.
Downing Street says intelligence reports suggest Col Gaddafi is "on the run" and hiding in Tripoli hospitals, in the belief he will be safe there.
UN Security Council Resolution 1973 authorised air strikes to protect Libyan civilians from attacks by forces loyal to Col Gaddafi.
The UN vote followed the violent suppression of protests against Col Gaddafi's regime, and military strikes against Col Gaddafi's forces in support of the rebels, which began on 19 March.