Elections watchdog dismisses Huhne spending complaint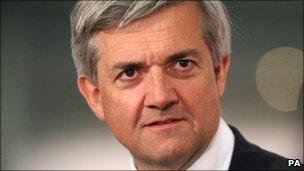 The elections watchdog has rejected a complaint made about Energy Secretary Chris Huhne's election spending.
Mr Huhne was accused by two former Lib Dem councillors in his Eastleigh constituency of having made a "false declaration" - a claim he denied.
But the Electoral Commission replied saying no "specific evidence" had been provided about his election spending.
Police are investigating separate claims that Mr Huhne tried to evade a speeding punishment, which he denies.
The energy secretary has been under pressure since his ex-wife suggested someone close to him took licence points for him after a speeding offence committed on the M11 motorway in 2003.
Separately, the Electoral Commission has been looking into two complaints about his election expenditure and announced on Friday one had been dismissed.
Under rules governing spending by parties on election campaigns, the limit for Mr Huhne's constituency at the 2010 general election was £39,973 - he declared £29,519.
The complaint to the Electoral Commission was based on a recording of a local party meeting where treasurer Anne Winstanley was heard saying that the elections "have cost more than we declared".
But the Commission said after considering the allegation "carefully, in line with our assessment procedure" it would not be taking further action, although it made it clear that it would consider further evidence if it was provided.
In a letter to Ms Winstanley, the investigator said: "The reason for my decision is that the allegation did not provide any specific evidence that Mr Huhne's campaign expenditure was under-reported.
"The discussions at the meeting did not appear to have related solely to spending on Mr Huhne's campaign and did not indicate any specific overspending in respect of his return".
Aides had said the sums referred to in the meeting covered all campaigning in the constituency and not just Mr Huhne's individual campaign expenses.
Ms Winstanley had previously issued a statement in which she said the general election expenses "were as declared to the Electoral Commission".
The complaint had been made by former Lib Dem mayor Glynn Davies-Dear, now an independent councillor on Eastleigh borough council, and former Lib Dem councillor Andy Moore. Both men quit the party in January in protest at the coalition government's policies.
The two men said they would challenge the watchdog's ruling as they were dissatisfied with how it had conducted the investigation.
BBC political correspondent Iain Watson said they had complained they had not been asked to submit the tape recording concerned.
However, Mr Huhne said he was "pleased" with Friday's ruling and that the matter had been dealt with "quickly and thoroughly".
"I am confident that the returns were completed properly in accordance with the law," he said.
The Sunlight Centre for Open Politics has also lodged a complaint with the Electoral Commission about Mr Huhne's expenditure on election leaflets and his election website, which is still being looked into.
The watchdog is expected to decide whether to formally investigate the matter next week.
Related Internet Links
The BBC is not responsible for the content of external sites.