Oversight of local authority accounts may be outsourced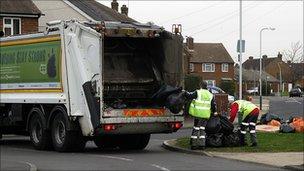 Plans are to be drawn up which would see the auditing of councils' accounts outsourced to the private sector.
Ministers have asked the Audit Commission, which inspects two thirds of council accounts at the moment, to prepare the ground for the switch.
While no final decision has been made, ministers said they believed this could provide the "best value for money".
The Audit Commission is due to be axed by the end of 2012 - but its staff could still bid for some of the work.
Ministers have said the quango, that employs around 2,000 people, has "lost its way" and its closure could save an estimated £50m a year.
They have indicated they are determined to stick to the closure timetable, but a memo to the commission's staff, leaked to the BBC earlier this year, suggested it was "business as usual" and the earliest it would close was the end of 2013.
The government has now said that if plans to transfer responsibility for town hall auditing to the private sector were to go ahead in 2012-3, the functions of the Audit Commission would be "radically" reduced.
The local spending watchdog has been asked to draw up plans for a procurement process which would enable external firms to tender for the contracts. However, it says current commission employees may be able to join together to form a mutual enterprise to bid for the work.
"This government has set in train measures to radically scale back centrally driven, bureaucratic and costly inspection and auditing, saving council taxpayers money," Housing Minister Grant Shapps said.
"Our initial view is that outsourcing could prove the best value for money and we have asked the Commission to start work on paving the way for outsourcing the 2012-13 audits to keep this option open before we make a final decision."
Mr Shapps said the interests of councils and other public bodies would be fully taken into account during any transition period.
Audit Commission chief executive Eugene Sullivan said there was potentially scope for existing employees to tender for the work by joining forces and creating a "new and distinctive provider" along mutual lines.
Ministers are keen to encourage greater mutual ownership of businesses as part of their Big Society agenda of promoting community engagement and alternatives to state provision.
But Labour have said the plans are a fig leaf for excessive cuts in local government which will damage standards and accountability.
Birmingham Council announced on Thursday it was transferring up to 100 jobs to India, thought to be the first time a local authority has "offshored" part of their direct workforce abroad. Unions have warned that other councils could follow suit, risking thousands of jobs.
Related Internet Links
The BBC is not responsible for the content of external sites.