Expenses fraud MP Illsley 'claimed after guilty plea'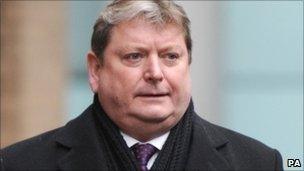 Former Labour MP Eric Illsley was paid thousand of pounds in expenses - after pleading guilty to expenses fraud.
Illsley admitted his guilt on 11 January but refused to resign his seat until 8 February, two days before he was jailed.
He sucessfully claimed £2,253 for photocopier hire and £19.95 for food and travel in the intervening period.
The expenses watchdog Ipsa said under the rules, he was entitled to claim up until the point he was no longer an MP.
Illsley was paid a total of £6,766 for claims submitted in January and February, but Ipsa said there was no provision in its rules to claw the money back.
He was jailed for a year after admitting to expenses fraud totalling £14,000. He was released last month and is serving the rest of his sentence under a home detention curfew.
The details of Illsley's claims were included in the latest tranche of expenses figures released by the watchdog - revealing money paid to MPs in January and February this year.
In total, almost 25,000 claims were submitted and £3.2m was paid. Eighty four MPs had a total of £4,633 they asked for rejected.
Ipsa also revealed that MPs have spent £880,000 on official payment cards - similar to credit cards - since May 2010.
The cards - which have a monthly credit limit of £4,000 - were originally meant to pay for travel alone, but can now also be used for hotels, utilities and other bills.
BBC Radio 5 live's political correspondent Chris Mason said the figures should be treated with some caution because the totals relate to claims handled in the two-month window, rather than expenses actually run up in that period.
He also pointed out that a number of the rejected claims were thrown out on the grounds of administrative errors or technicalities.
In one case, Lib Dem Transport Minister Norman Baker had a £15 bill for a "restaurant meal" turned down because it was not categorised as a legitimate expense.
The reason was that MPs can claim for dinner if the House of Commons sits later than 7.30pm and on the day in question, it rose at 7.29pm.
Overall, the most common reason for claims being rejected was "insufficient evidence" - in other words, non-provision of receipts or tickets for travel.
Ipsa was created after the expenses scandal in 2009.
Its rules was relaxed in March following complaints from MPs that it was too bureaucratic and "anti-family".
Related Internet Links
The BBC is not responsible for the content of external sites.