Plan to cut Whitehall buying costs after Green review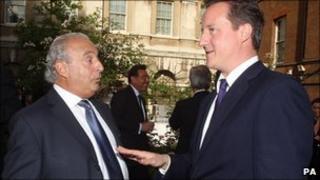 The government is to centralise the buying of goods and services across departments in a bid to save £3bn.
The move follows a review by tycoon Sir Philip Green who said Whitehall was not making the most of its scale, buying power and credit rating.
Sir Philip found various departments had signed multiple contracts with major suppliers at different prices.
Cabinet Office minister Francis Maude said departments paying different rates for the same goods was "bonkers".
The plan is to create a central government procurement team which would buy goods and services such as vehicles, stationery and office furniture at a single set price.
Sir Philip, the owner of retail giants Topshop and BHS, said the government's £2bn telecoms bill could be cut by up to 40%, and he pointed out that some departments had spent £73 on boxes of paper while others had got them for £8.
Other examples included different departments and agencies paying between £350 and £2,000 for the same laptops and between £85 and £240 for the same printer cartridges.
Spending 'madness'
Sir Philip said civil servants should treat the buying of goods and services as if they were spending their own money.
Mr Maude, who is also Paymaster General, said: "It is bonkers for different parts of government to be paying vastly different prices for exactly the same goods.
"We are putting a stop to this madness which has been presided over for too long. Until recently, there wasn't even any proper central data on procurement spending."
He said centralised procurement could save more than £3bn a year by 2015 - a saving of 25%.
Mr Maude said "significant changes" had already been made over the past year to cut procurement spending by £1bn.
He also stressed the government's commitment to buying more goods and services from smaller suppliers.