David Cameron to address NI assembly and meet MLAs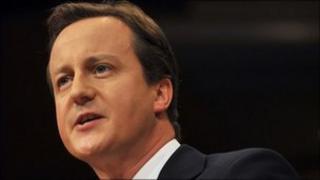 Prime Minister David Cameron is expected to address the Northern Ireland Assembly on Thursday.
He is also due to hold talks with First Minister Peter Robinson and Deputy First Minister Martin McGuinness at Stormont Castle.
It is thought he will also meet with other MLAs.
The Treasury is consulting on giving the executive the power to lower the corporation tax rate to make the region more competitive with the Republic.
The current rate in the UK is 26% compared to 12.5% south of the border.
Under European rules on state aid to regions within nations, any cut in corporation tax would come with a price tag.
The compensating cost to the NI block grant could be £215m per year.
Investment
The enterprise minister has said she is hopeful that Northern Ireland will win the right to lower its corporation tax, despite concerns from the Treasury.
Arlene Foster said a lower corporation tax would create jobs and attract investment.
She said this would make up for a potential multi-million pound cut in funding from Westminster.
Last week, Peter Robinson and Martin McGuinness met the leaders of the Scottish and Welsh executive in Edinburgh to discuss issues that were of interest to the three devolved regions, including corporation tax.
Scotland's First Minister Alex Salmond has also hinted that he wants his administration to be given the powers to cut lower corporation tax.