Circuses face new rules on animal use as ban ruled out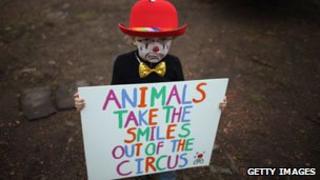 MPs could hold a vote next week on banning the use of wild animals in circuses in England and Wales.
Conservative Mark Pritchard, who secured a Commons debate on the issue, said it was a "unique opportunity" to reduce suffering.
In 2009 there were an estimated 39 wild animals being used in UK circuses, including elephants, tigers, lions, camels, zebras and crocodiles.
Ministers have ruled out a ban but have promised to raise welfare standards.
In Scotland, the governing SNP has said it could include a ban in its legislative programme, to be outlined in the autumn.
The "voteable" Commons debate will take place on Thursday 23 June. If MPs back a ban it will not pass into law, but would increase pressure on the government to act.
Austrian case
Mr Pritchard, MP for The Wrekin, said: "I hope that supporters of introducing a ban on wild animals in circuses will now write to their own MPs asking them to attend the debate and to vote for an outright ban."
Last month, Environment Secretary Caroline Spelman announced there would be no outlawing of the use of wild animals in circuses but promised to enforce "high welfare standards".
Agriculture minister Jim Paice also ruled out a ban last week but said the cost of a new licensing and inspection regime could lead to fewer performing animals.
However, the Association of Circus Proprietors of Great Britain said more robust regulation could see some circuses return to using animals, as it would be easier to show they were "fully compliant" with higher welfare standards.
A ban on circus animals introduced in Austria is being challenged under European law.
The UK government has previously argued that it would be unworkable to introduce one, until the outcome of that case was known.
There was an outcry earlier this year when footage emerged of a 59-year-old circus elephant called Anne being beaten with a pitchfork in Northamptonshire.
She has since been taken to Longleat Safari Park in Wiltshire.