Duncan Smith warns of threat from human trafficking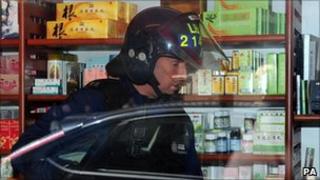 Iain Duncan Smith has warned about the threat posed by human trafficking as the think tank he founded launches a review of efforts to combat slavery.
The work and pensions secretary called the practice a "wound which shames our present", when he spoke at a Centre for Social Justice (CSJ) event in London.
Studies suggest at least 6,000 women have been trafficked into the UK and forced into prostitution.
Ministers have said the UK has a "strong record" of supporting victims.
The government is expected to publish a separate review of its anti-trafficking strategy later this month.
'Evil trade'
The CSJ - which Mr Duncan Smith set up in 2004 - is to consider existing laws on prostitution, trafficking and domestic servitude as part of a wide-ranging review.
It will also examine the responsibilities and effectiveness of the police and other enforcement organisations in tackling the problem, measures for identifying victims and the support given to them, as well as public attitudes to the issue.
In his speech Mr Duncan Smith said slavery was a "wound that shames our present", adding: "Nothing else strikes at the heart of social justice so aggressively as modern-day human trafficking and enslavement."
The think tank said modern-day slavery was "devastating" more lives than when the slave trade was abolished 200 years ago.
"Every slave victim represents a family torn apart and an individual's freedom and choice destroyed," its executive director Gavin Poole said.
"We want the UK to become a world leader in combating this evil trade at home and abroad and working with other countries to make abolition a reality."
The government recently signed up to the EU-wide human trafficking directive, having initially opted out. Under the new laws, there are tougher penalties for those found guilty of sexual exploitation and forced labour as well as new sanctions for those assisting criminal groups.
Immigration minister Damian Green said the UK was determined to stop groups intent on trafficking people into the UK and the UK's new National Crime Agency would help "disrupt" their activities.
"The UK has a strong record of supporting victims of trafficking and through tough enforcement we are stopping the UK becoming a safe haven," he said.